California State Exam Prep
Our Exam Prep Solution Helps You Pass The State Exam
On Your First Attempt
INCLUDED IN OUR ENHANCED AND ULTIMATE PACKAGES
Ace your California Real Estate Exam with License Solution's brand new, updated for 2022 Exam Prep Solution!
Simulated State Exam Mode
The Simulated Exam Mode gives you the experience of taking the actual state exam. You will be given an unlimited amount of exams containing 150 questions each (just like the state exam).
Each exam will be timed (3 hours and 15 minutes, just like the state exam). After completing all 150 questions, you will receive your grade. You will see the questions you missed, with the correct answers and the explanation why they were correct.
We do not candy-coat these exams. These simulated tests are as close as we can legally come to the content on the actual State Exam. Your scores will reflect your readiness to actually pass the State exam on your first attempt. If you are scoring consistently over 70%, you are ready. If not, continue to utilize the prep.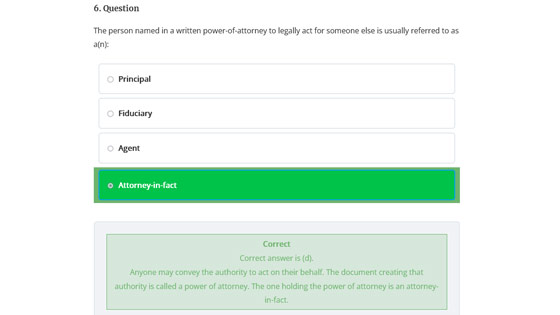 Random State Exam Question Mode
The Random Question Mode serves you simulated state exam questions one question at a time. After answering each question, you will immediately receive the result with the explanation why your answer was correct (or incorrect). You can review your answers at any time to hone in on the areas you may need improvement.
License Solution's real estate Exam Prep Solution provides you with brand new, updated for 2020 questions and answers (including math concepts, questions and answers) to prepare you for the California real estate State exam.