California Real Estate License Requirements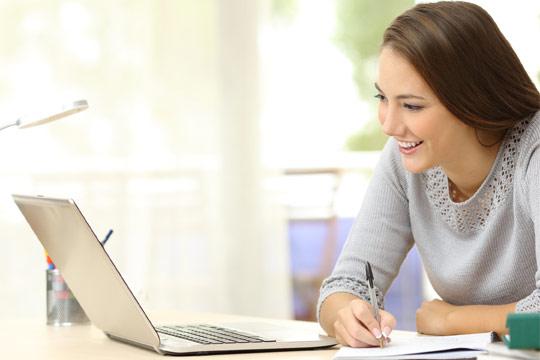 There is no need to attend classes or take exams at a physical location other than right in your own home or office. The only requirement of our online school is that you have access to the Internet. Each California real estate agent license course is available in three different formats. You may choose to use one, two or all three formats for your studies, depending on which course package you select. Our interactive courses are available in every package. They are easy to navigate and fun to use. We have added videos to the interactive courses to further enhance your learning experience in the Gold and Platinum course packages. In addition, our audiobook format is available in our Silver, Gold and Platinum course packages, so you can listen while you are walking, running, driving, or just about anywhere. And, of course, all students have access to our ebooks, which you can read online, download for offline use, or even print.
California Department of Real Estate (DRE) Requirements
You must be 18 years of age or older to obtain your salesperson license.
California Department of Real Estate requires students to wait 18 days before taking each of the required course final exams. Our online education system will automatically implement the limits on requirements based on DRE guidelines.
Students must pass all 3 required exams, Principles, Practice and the elective before applying for the state exam. Proof of completion of these courses must be sent along with your application before being accepted to sit for the state exam.
Upon passing the salesperson exam, you will be required to act on behalf of a broker and may not work under multiple brokers.
Real Estate License Application Requirements
California does not require applicants to have a high school diploma or college education in order to hold a salesperson license. State residency is also not required to obtain a real estate license.
Sitting for the state exam requires you to show a valid form of identification issued within 5 years. Accepted forms of ID include Driver's License or DMV identification card, U.S. Passport, U.S. Military ID or a valid Passport issued by a foreign government.
The California Salesperson Examination allows a time limit of 3 hours for completion. You will need to answer 150 multiple choice questions with a minimum of answering 70% correctly in order to pass the test.
Starting Your Real Estate Career
Beginning your journey into a real estate career is an exciting experience. Realtors are independent entrepreneurs who have an incredible opportunity to achieve success. Not only are they their own boss, but they also choose their own hours and determine how successful they want to become. Your dream of assisting clients in buying and selling real estate is as close as investing in one of our educational packages and investing in yourself. License Solution will help you learn the material thoroughly and quickly.