The obvious answer to this question is . . . absolutely! But perhaps it's not really the right question to be asking. If you want to get your real estate license and become an agent, then yes, you need to pass the California real estate exam. It isn't easy. But the exam is not testing you to determine how smart you are; it's testing you to find out how much you know about the field of real estate. And if you haven't taken any real estate licensing courses, you probably don't know much about it (yet). But if you are ready, motivated, and excited about learning and beginning a new career as an agent, you will understand everything you need to before you take the exam. Does it require studying? Yes. Do you have to concentrate? Of course. Will it take some time? Yes, but probably not as much as you think. This article will give you the ins and outs of what you'll need to learn and to do to take and pass the state exam, so get a cup of coffee or tea, relax, and read on.
California requires you to take three courses before you sit for the real estate license exam: Real Estate Principles, Real Estate Practice, and one elective course (most students take Real Estate Finance). It may sound daunting at 135 hours of coursework. But you take the classes one at a time in succession, for 45 hours each. And with an online, comprehensive learning program, materials that are simple to use, in language that is easy to understand, you will not only get through it quickly, but you will come away with the confidence to use that newly acquired knowledge to take and pass the state exam. You will become a real estate agent.
In California, the Department of Real Estate (the "DRE") is the state regulating body that administers the licensing exam and sets the standards for the required course work. It differs from state to state. Some states require fewer hours, some a lot more. But everyone has to pass an exam to become licensed.
General Requirements
Let's begin with the general requirements for licensing. You must be 18 years of age or older. Often new high school graduates are not yet 18. Sorry, you will have to wait until your birthday. You do not have to be a California resident, but there are some special rules you must follow if you are not. See the DRE's out-of-state resident rules here: https://www.dre.ca.gov/Examinees/OutOfState.html
And all applicants must be honest and truthful. If you have been or are convicted of a crime, you may be denied a license. You must pass a criminal background check.
Course Requirements
As discussed above, you must take and complete three courses in order to qualify to take the state exam: Real Estate Principles, Real Estate Practice, and one elective, usually Real Estate Finance. Different Real Estate Pre-Licensing programs offer different styles and methods for you to learn the material. It's always good to have choices, so make sure the school you choose provides you with the best learning approaches for you, whether that's the ease and convenience of online learning or an in-person class setting. And online schools may offer everything from just pdf materials, to interactive courses, to audiobooks, to video, or a combination of all of those methods with the option to switch back and forth. Do your due diligence and choose wisely. The "big names" in schools may not offer what works best for you.
Real Estate Principles
The Real Estate Principles course is an introductory course, designed to give you a thorough background and understanding of essential real estate concepts from agency relationships to economics to the laws of real estate. You will learn the functional terminology inherent in real estate transactions, the types of property ownership and vesting, contracts, and land use regulations. And this course will provide you with the foundation upon which the other courses will build as you become more knowledgeable about the field.
Real Estate Practice
After you have the basics down, you'll take the Real Estate Practice course, which covers the elements of day-to-day sales and brokerage practices. You will learn about attracting clients, obtaining listings, the sales process, and handling a transaction from listing to closing escrow. You'll also learn about advertising, financing, property inspections, closing the sale, expediting escrow, as well as developing and maintaining effective community relations. This is very much a practical course where you truly learn what it's like to be an agent.
Real Estate Finance (Best Elective)
Although the third course requirement is an elective, most agents recommend that pre-licensees take Real Estate Finance because it covers topics about which your clients will certainly have questions even before they are ready to consider making an offer on a property. This course gives more of an in-depth view of some of the topics that were briefly touched upon in the first two courses. It covers topics of finance principles as they relate to both residential and commercial real estate transactions, including real estate cycles, economic theories, the mortgage industry, loan types, mortgage instruments, and the loan underwriting process, among others.
Other Electives
If you have already taken a Real Estate Finance course, there are other electives that the DRE will allow you to choose from in order to qualify for the state exam. They are: Real Estate Appraisal, Property Management, Real Estate Economics, Legal Aspects of Real Estate, Real Estate Office Administration, General Accounting, Business Law, Escrows, Mortgage Loan Brokering and Lending, Computer Applications in Real Estate, and Common Interest Developments.
As you finish each course, you will need to pass a final exam for that course. Schools differ on the score you need to achieve in order to pass the test and get your certificate, so be certain to check that out when you're searching for a school. Once you finish all three courses and have obtained the certificates for each course, as long as all of the general requirements are met, you are ready to fill out the DRE's application to get a date for you to take the state exam.
What to Know About the California Real Estate Exam
To sit for the state exam, you must fill out the DRE's application and submit it with the documents requested and the $60 exam fee. You must also have your fingerprints taken.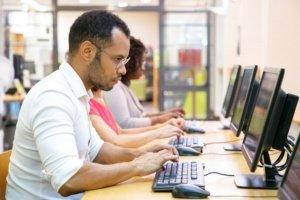 The DRE Exam Application
You will find the application for the real estate exam on the DRE website, and you can either complete it online or print it and send it by mail or fax to the DRE. Go to https://www.dre.ca.gov/ Examinees to find what is needed.
If you choose to complete the application online, you will be instructed to go to the DRE elicensing online system where you will need to first set up an account. Then you'll be asked to provide a lot of personal information (including your social security number), and to upload the documents necessary to accompany your application, i.e., your certificates of completion for the three pre-licensing courses. You can pay the exam fee ($60) online with a credit or debit card. If you choose to complete the application on paper and mail it in, you will need to send it along with your three certificates of course completion to the DRE in Sacramento. You can pay the fee by cashier's check, money order, personal check, or credit card. (Credit card requires a separate form).
Whether on paper or online, the application allows you to select a site to take the exam — either in Sacramento, Fresno, Oakland, San Diego County or the Los Angeles vicinity – a time preference, and the earliest date you can take it. You can also request reasonable accommodations (by submitting another form) if you are disabled.
Once the DRE has your application, documents, fee, and any other forms you are submitting, then you wait. It can take up to three months to obtain your exam date. But that gives you plenty of time to study!
Studying for the Real Estate Exam
In addition to the course materials, depending upon which school you attended for your course work (whether online or in person), you may have additional materials and study aids specifically to help you prepare for the state exam. Some schools provide practice tests with questions and answers; some give explanations as to why the correct answer is the right choice. That's especially
helpful if your response is incorrect. Others provide flashcards, note-taking capabilities within the course, a real estate dictionary, audio exam prep and video exam prep. Make sure you choose a real estate school that offers sufficient study tools to help you prepare rather than leaving you on your own to simply go through the material again. That may not be enough for you.
Taking the Real Estate Exam
It's almost test day. It may be a little nerve-wracking, but you are not alone! Besides getting enough rest the night before and eating a healthy meal the day of, it's a good idea to review key concepts right before bed. Numerous studies show that our best retention occurs when you study right before you go to sleep.1 It seems counterintuitive because you're probably tired by that time of day, but it appears to work.
Make sure you know where to go, what to do, and what you must and must not bring with you into the test site. For example, you must bring an acceptable form of identification (driver's license, military ID, passport) and no cell phones, food or drinks are allowed! They will provide simple calculators for your use if you need one. They start promptly, so get there early. (Note that most locations provide electronic exams.)
The test includes 150 multiple-choice questions, each having four answers from which to choose. The test-takers are given three hours to complete the exam, which, if you studied sufficiently, is more than enough time. You need to score 70% or better in order to pass. If you take the exam electronically, you will get your score immediately upon completion. If not, you will likely get the results by mail in a few days. You are given an opportunity to take the exam again if you are notified that you did not pass.

Pass Rate, Schmass Rate
As noted earlier, the exam is not easy. It has about a 50% pass rate. But don't let that dissuade you. You can pass it if you are willing to put in the work. And you can take it again…and again. Start with signing up with the program that gives you the best and most choices for learning and studying the material. Take your course work seriously. Do the reading, take the quizzes, use the study tools, take the practice tests, take advantage of the written, audio, and/or video exam prep and study. You can do this. Many have. You will, too. Your new career as a real estate agent awaits you.
1 See, for example, Mander, Bryce A., et al. "Wake Deterioration and Sleep Restoration of Human Learning." Current Biology, vol. 21, no. 5, 2011, doi:10.1016/j.cub.2011.01.019; Walker M. P. (2009). The role of slow wave sleep in memory processing. Journal of clinical sleep medicine: JCSM: official publication of the American Academy of Sleep Medicine, 5(2 Suppl), S20–S26; Walker, Matthew P, et al. "Cognitive Flexibility across the Sleep–Wake Cycle: REM- Sleep Enhancement of Anagram Problem Solving." Cognitive Brain Research, vol. 14, no. 3, 2002, pp. 317–324., doi:10.1016/s0926-6410(02)00134-9.