So, you want to become a real estate agent and cannot wait to begin your journey. You are excited about all the opportunities that await you on this new and exciting career path.
You will be surprised that becoming a licensed real estate agent takes less time to begin than most careers. But don't worry; online training makes becoming a real estate agent in California more accessible than you think.
As with any new career training opportunity, taking your time as you work through real estate school is always best. However, anyone with a general understanding of the industry and who wants to get a real estate license quickly can easily do so.
Read on for the quickest and easiest way to obtain your California real estate license.
The Quickest Way to Obtain a Real Estate License
Hands down, the fastest and easiest way to obtain a real estate license in California is by signing up for an accredited online real estate program. Still, the fastest you can expect to receive your real estate license in California is approximately five months.
According to the California Department of Real Estate (DRE), anyone seeking a real estate license must spend a minimum of 54 days in a California DRE-approved study program. Since there is no way to get around that requirement, you will need at least two months of schooling.
Once you've completed your coursework, you'll have to apply to take California's real estate licensing exam, and that approval process can take up to three months.
How to Optimize Your Online Real Estate Training
Enrolling in an online California real estate licensing course allows you to work independently and optimize your study and coursework time.
The 54-day minimum required by the California DRE is distributed evenly across three required real estate courses, each consisting of 18 days of work, respectively:
Course #1 (18-day minimum): Real Estate Practice
Course #2 (18-day minimum): Real Estate Principles
Course #3 (18-day minimum): One elective real estate course. We highly recommend Real Estate Finance.
If you can complete each course and its final exam within the 18-day course window, you can meet all your schooling requirements within 54 days.
The fastest way to complete all three courses is to set a schedule for learning and stick to it. For example, many students may only need to study for one hour per day to complete a course in eighteen days.
How to Quickly Apply to Take the California Real Estate Exam
Once you have completed your online real estate training, you can simultaneously apply for the California real estate licensing exam and your real estate license by submitting Form RE 435 to the California DRE.  The application can take up to four to six weeks to be approved. However, applying through the California DRE's online eLicensing portal will ensure the fastest result.
The licensing process also gives you the option to choose your sponsoring broker. Although you do not need a sponsoring broker to take the real estate exam and obtain your license, you must work with a brokerage to be a real estate agent in California.
Therefore, if you already have a sponsoring broker lined up at the time of application, you will be eligible to begin working as a real estate agent as soon as you can complete and pass the exam.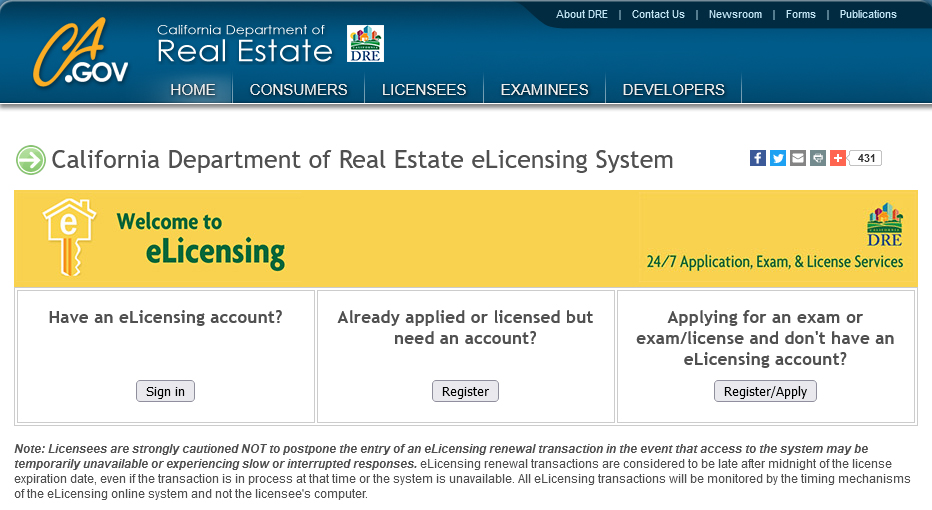 Preparing for the Real Estate Exam
Since there is a significant wait time between filing your application with the California DRE and taking the real estate licensing test, you can use that time to better prepare for the exam.
The best online California real estate licensing programs offer state-of-the-art exam prep systems with up-to-date practice questions with the look and feel of actual state exam questions. You can also utilize study tools like interactive chapter quizzes and online flashcards to help you prepare for the California real estate licensing exam.
Some schools also offer students a series of crash course videos and other state exam preparation tools that they can use in the days leading up to taking the state licensing exam.
Once you've passed the licensing exam, the California DRE will mail your official real estate license. If you still need to do so by the time you receive your license, signing on to work with a real estate broker will be the only remaining step in realizing your dream of becoming a real estate agent in California.
Is Online Real Estate School the Best Option?
There are many reasons why online real estate training is far superior to classroom-based education.
As noted above, it is the fastest track toward obtaining a California real estate license. Yet, there are many other advantages associated with online real estate education programs.
Real estate courses are required to obtain a California real estate agent license, but your participation is more than a step in the process. Online real estate school provides the materials necessary to pass the state licensing exam and lay the foundation for a successful career in the industry.
Reputable schools offer students the most up-to-date, easy-to-understand materials through DRE-approved courses, allowing them to learn at their own pace, which is far less tedious than a classroom learning environment. Students also have access to live support and course instructors daily, just like they would in a classroom setting, without ever having to leave the comfort of their own homes.
Some online educators offer students a "pass guarantee ." They guarantee you will pass the California state exam on your first attempt and will pay for your next state exam if you do not pass the state exam on your first try. Some schools will also pay for every additional state exam until you pass!
DRE Approved Curriculum
The California-DRE-approved curriculum and supporting tools and materials a reputable school provides will do more than ensure you pass the California real estate licensing exam. These tools help you master the information quickly and help you to become a successful agent.
With the proper training through a well-thought-out online course, you will be a real estate agent with the knowledge and integrity necessary to build a successful career.
TL;DR: The fastest way to get your real estate license in California will typically take 3-4 months.  You will complete three pre-licensing courses and apply for and pass the state exam.  The time will vary depending on your study schedule.