Whether you are planning to sell your home soon or at some time in the future, it is important to understand what renovations will provide the most valuable return on your investment. Some remodeling, of course, is solely for your and your family's own enjoyment of your home, and to that we say, "Go for it!" If you want to add a fireplace to your living room or get built-ins for your closets to make life more comfortable or more convenient, by all means, do it. But if you are expecting to get most of your money back for those types of improvements, better read on.
Remodeling Magazine ("Remodeling") conducted a study in 2020, surveying 3000 real estate agents and firms involving 22 home remodeling projects to determine nationally and then by region what return you can expect on your investment in those projects. You may be surprised at the top five improvements in the Pacific Region. And some, not unexpectedly, differ from the national numbers.
The renovation that has the fifth best return on investment in the Pacific Region is replacement of your siding with new fiber-cement siding that is factory primed and painted. I know, that is not a very sexy upgrade and you cannot enjoy it inside your home. But, according to Remodeling, you will recoup 78% of the approximately $16,000 cost for this improvement when you sell your home.
The fourth best renovation you can make on your home on the west coast with respect to return on investment is a minor kitchen remodel, the cost of which averages about $23,000. What is involved in a minor remodel? Typically, it involves leaving cabinet boxes in place, but replacing cabinet and drawer fronts with new ones, including new hardware (hinges and pulls), replacing appliances with new energy-efficient models that have modern finishes, and replacing laminate or tile countertops with solid stone, whether natural or engineered. Expanding it a bit more to a mid-range remodel will include new flooring, especially if the current flooring is quite dated, such as linoleum or linoleum-like laminate, a new sink and faucet, and newly painted walls. But that gets closer to a major remodel, which does not appear until the sixteenth position on Remodeling's list of returns on investment. With a minor kitchen renovation, Remodeling found that you will recover 86.6% of your investment when you sell your home. Not too shabby.
According to Remodeling's survey, the third best renovation project is adding a new entry door to your home. A beautiful new door can certainly be very welcoming and help you attract buyers. The price for a new entry door may vary depending on style and material, but generally they run about $1,800 on average in the Pacific Region. And you can recoup 87.9% of your money. Here is where there is a big difference between a regional and a national investment in the same type of home improvement. Nationally, Remodeling found that you would only get 68.8% of your money back for a new entry door. (So, does that mean that we west coast people are more into first impressions?)
You will get your second biggest return on investment if you decide to replace your garage door – yes, you read that right — which will cost only about $3,000 to $4,000. On average nationally, you will recoup 94.5% of your investment in a new garage door. Out west, Remodeling found that you will get a whopping 117.1% return on your investment. But the fact that we are talking about getting back about $4,684 on a $4,000 spend when you are trying to sell your home for $750,000 may not have much of an impact on your upgrade decision.
Okay, ready? According to Remodeling, the number one home renovation that will bring you the biggest return on investment in the Pacific Region is the replacement of some of your siding with manufactured stone veneer on the front of your home. This will set you back about $10,000, depending on how big your home is. But it will recoup 119.5% of the cost when you sell. To do this, it is recommended that you remove a continuous band of existing vinyl siding from the bottom third of the street-facing facade and replace it with adhered manufactured stone veneer. You can also outline the entryway with the stone veneer as well for an inviting touch. (See before and after photos.)
BEFORE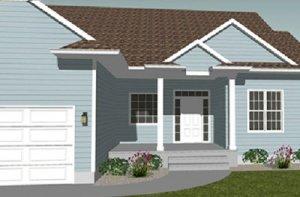 AFTER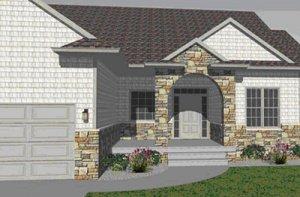 So, there you have it. I still think that if you plan to be in your home for a number of years, you are best off making the improvements that you and your family will enjoy while you are living there. But if you are thinking of selling a year or two from now, consider focusing on the improvements that will get you a bigger bang for your buck.