Getting a license to practice real estate is a requirement in any state, but California has some of the most stringent requirements. The exam, which is difficult enough, also requires you to take 135+ hours of education in real estate covering at least three subjects, including Real Estate Principles, Real Estate Practice, and an elective chosen from a variety of topics, including finances, law, appraisal, and property management.
One of the biggest choices you have to make as someone interested in getting a California real estate salesperson license is where to get the education you require. You can take online courses, you can take remote courses from real estate schools, or you can go to an institute of higher learning and take courses in person. You can even get a full degree from a college or university if you want an even stronger and more comprehensive knowledge of real estate.
Picking the right option can be difficult. There's no one right answer, either. Some people learn best in self-directed and lightly-guided coursework, while others need in-person, formal classes to get the most out of a course. Some look for the cheapest possible options, while others only take it seriously if significant tuition is on the line.
Fortunately, whatever your situation may be, there's an option for everyone. We've put together a list of eight options for your real estate education centered around Los Angeles. If you're not in Los Angeles and you don't want remote education, you can look for branch locations near you or similar options (such as this list for San Diego.)
P.S. We have to give ourselves a shameless plug
; our California real estate license courses are more affordable and more effective than most of these options, and you don't have to attend a university to get licensed! If you're interested in becoming a licensed realtor in the state of California,
check out our packages
to get started.
How to Evaluate a Real Estate School
Before you go applying to the first school on this list, you should take some time to learn how to evaluate a school for what you want and, more importantly, for what it offers.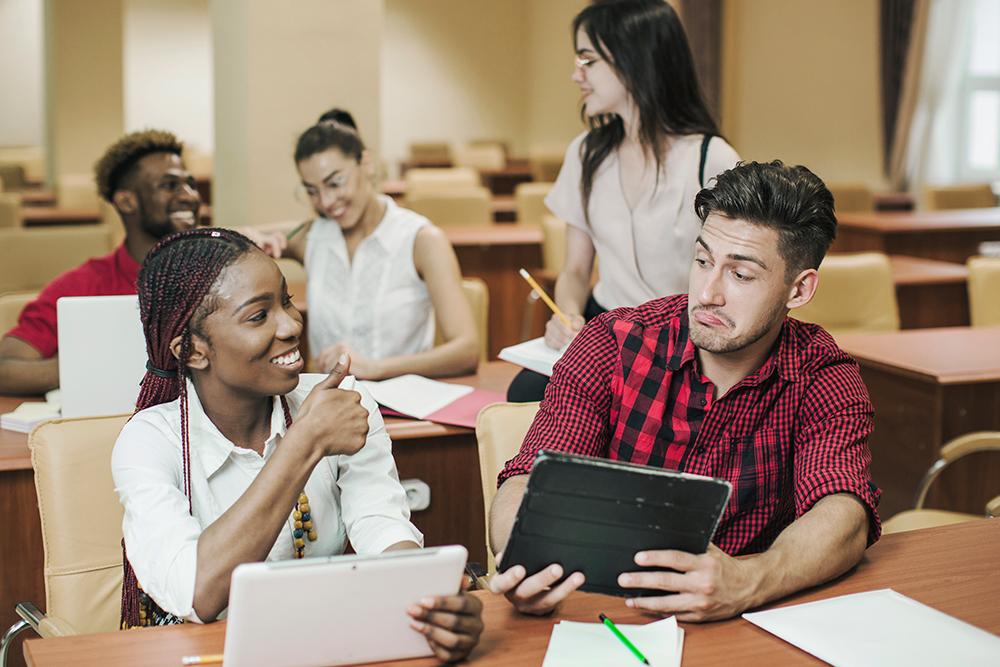 There are quite a few factors to consider, so it can be worthwhile to even make a table to track the schools you want to consider.
Cost. Price is a big deal for many people. While picking the cheapest option isn't always the right decision, many people either can't afford or don't want to pay for full-on university education and accredited degree programs just to get those course certifications to take the real estate exam. There are good reasons to do so, of course, but the cost can be prohibited for many. Make sure you know your price range and what you're getting for that cost.
Covering the Basics. Every program on this list – and any certified by the Department of Real Estate – will offer the minimum three courses you need to take. Additional knowledge, electives, and tertiary education can be beneficial but are not required. Decide how much additional education you want above the basic core three courses, and go from there.
Format. Will you be taking courses in person, on a schedule, or will you be studying independently with PDFs and pre-recorded videos? It can be a big help to know what kind of learner you are and how well you can absorb information in various formats.
Added value. What do you get out of your school? If all you're getting are certificates for the real estate exam requirements, check for additional value like refunds or cost-covering guarantees if you don't pass or need to drop out. If you're paying for a full university, learn how credits transfer and what else you'd need to do for a degree.
Location. If you're in LA and you want to attend an in-person school, the location can be important. Nobody wants to spend hours on a commute every day, so a convenient location can be a huge boon.
With all of that in mind, you can have a good idea of how different schools and course offerings stand up to one another and which ones offer the ideal situation for you. With that in mind, here are the top real estate schools you can attend if you live in the Los Angeles area.
The University of California Los Angeles Extension is the local Los Angeles branch of the prestigious university system found throughout California. Their real estate program fully prepares you for licensing as a salesperson, with plenty of foundational knowledge to kick-start your career in real estate above what many get taking bargain-bin courses from other institutions. It's a six-month full-time program (or one year part-time) and has five required courses, including Principles, Practice, Legal Aspects, Land Economics, and a Business Ethics course.
Note that they don't specifically include a Real Estate finances course in their required list, but you're free to optionally enroll in one as well if you prefer. Otherwise, finances are discussed throughout the program.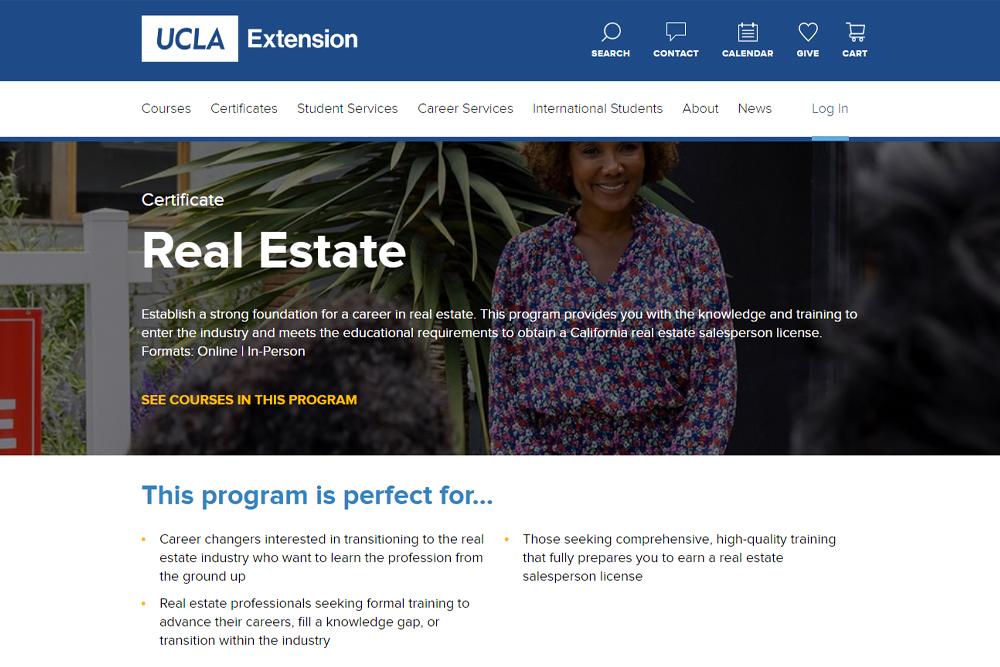 While UCLA offers one of the best and most comprehensive licensing programs available – and has an internship option attached – it's not a perfect option. The biggest drawback, as you might imagine from the university system, is the cost. The estimated cost breakdown before financial aid is over $4,000 between tuition, fees, books and materials, and application fees.
California State University is the other major university system throughout California, and with 20+ campuses across the state, they're going to be visible on pretty much any list of schools in the region, including in Los Angeles. The university offers both an Undergraduate Major in Real Estate and a Minor in Real Estate for those already taking courses and who want to prepare for a career in real estate on the side. Both will fully prepare you for taking and passing the salesperson license exam.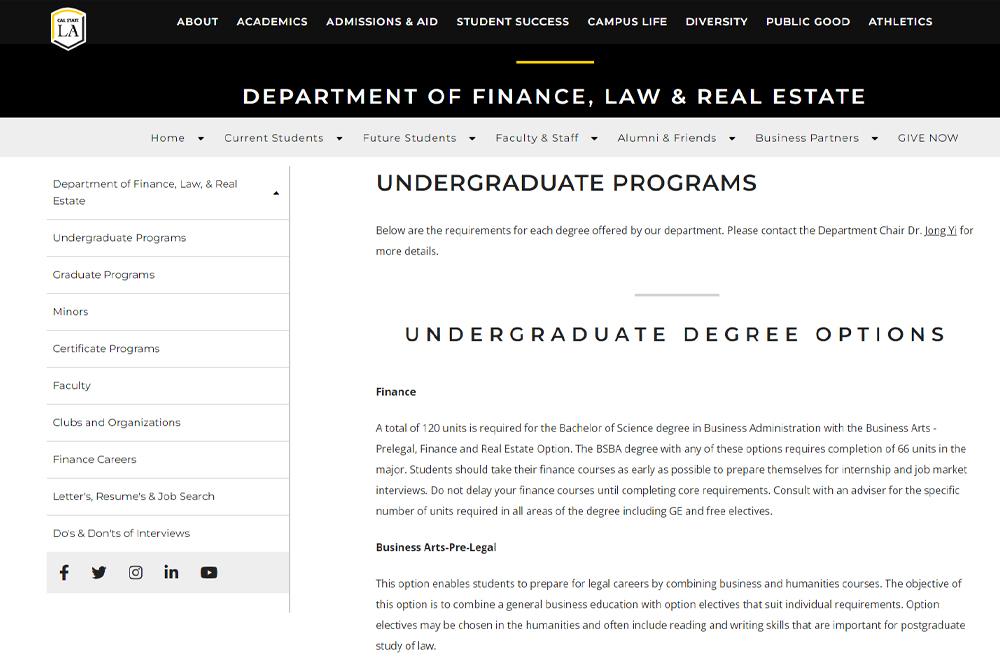 Much like UCLA, Cal State has the same significant drawback of being a major full-on university. That means you're getting an excellent, comprehensive education, but it also means you're paying for it. Tuition, fees, and other costs associated with attending an in-person university – whether you're living on-campus, off-campus, or commuting – rack up quite significantly, and you can expect to pay nearly $7,000 in tuition and more in fees.
Los Angeles Southwest College is a smaller community college based in Los Angeles. Among the many different courses and degree pathways they offer, they have an Associate in Arts degree focused on Real Estate. This 18-unit program has seven required courses: Principles, Practice, Legal Aspects, Finance, two Appraisal courses, and Property Management. Overall, it's one of the most comprehensive real estate programs while still being pared down and focused 100% on real estate, without various additional business management or finances courses bogging down the pathway.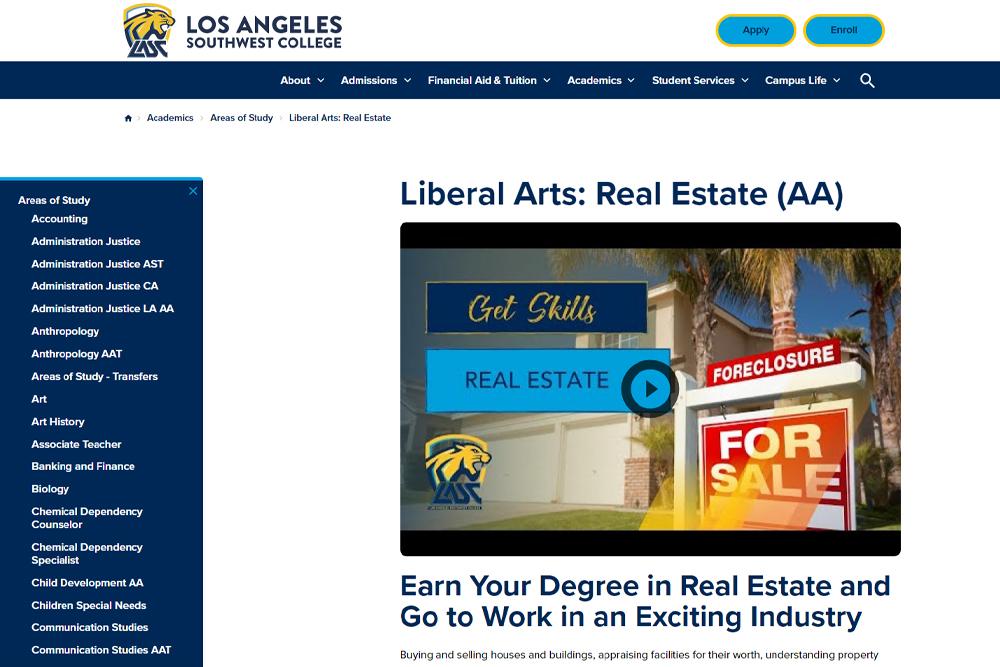 As with any college or university, tuition can be pretty high; though LASC is still cheaper than either Cal State or UCLA, it's still a far cry from what you can get in more focused, real estate exclusive schools like what we'll talk about a little later.
Similar to LASC, Los Angeles Valley College is another locally-prominent community college that offers programs in real estate. LAVC offers both a certificate of achievement in real estate and a full associate of arts like LASC's program. The AA is larger and more comprehensive, meant to be a strong foundation for anyone looking to get into real estate at any level and to assist with progressing a full career. The certificate of achievement is more scaled back and focuses primarily on preparation for passing the salesperson licensing exam.
One of the ways that LAVC stands out is in inexpensive costs for the education you receive. Tuition is a simple $46 per unit, so the 18-unit certificate will cost you less than $500. Additional fees exist, of course, but they're generally minimal; $20 for parking for a semester, a $15 per unit audit fee, and a few other fees along the same scale. Overall, it's vastly cheaper than any of the other traditional educational institutions.
The first of several online offerings on this list, the School of Real Estate is an online course provider focused entirely on preparing you for the California real estate licensing exam. There are, however, a few downsides to using this particular business for your education.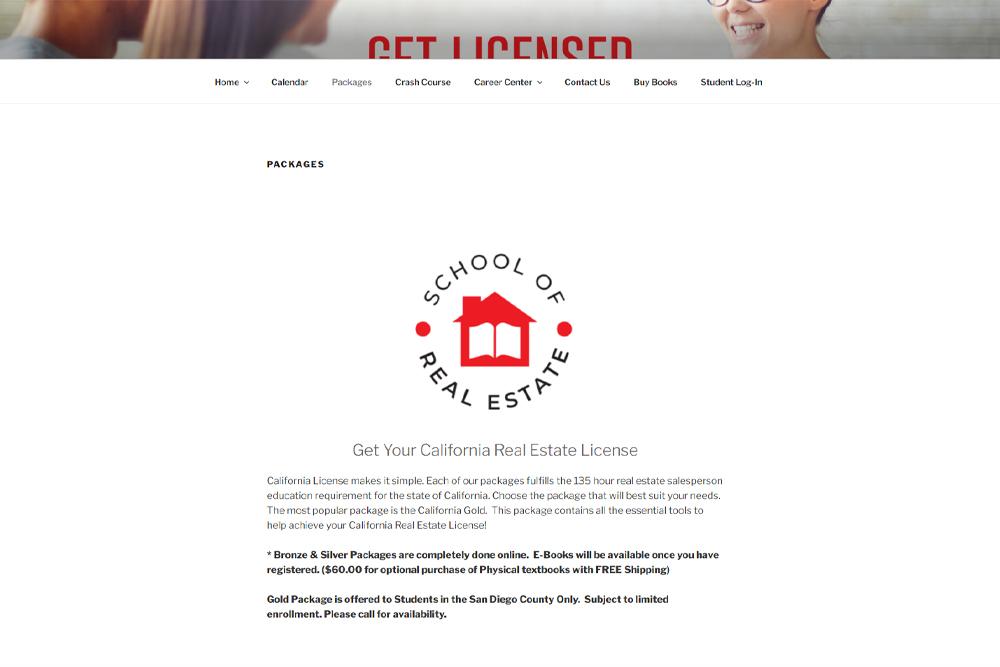 The first is that their best package, the Gold package, is only available for students in person in San Diego, and they have no such offerings in Los Angeles. LA residents will be limited to the Bronze or Silver packages, which aren't as comprehensive. The Silver package, which is $500, offers you everything you need via online, live-streamed courses.
The second downside is that stream, however. It's scheduled, not pre-recorded, and it's only available on Tuesdays and Wednesdays in the evening. You have to have your schedule open for these courses, which is not what most people turn to online schoolwork to take advantage of. For the expense, you'd be better off with something like LAVC.
Kaplan is a business that focuses entirely on courses designed to help people pass standardized tests of all sorts, from the SAT to the MCAT to the Real Estate Licensing exam. As such, most of what they offer is focused entirely on test prep and test-taking strategies. For some people, this can be very helpful! For others, it prepares them to pass the exam and leaves them floundering once they do, with no idea where to go or what to do with that license in hand.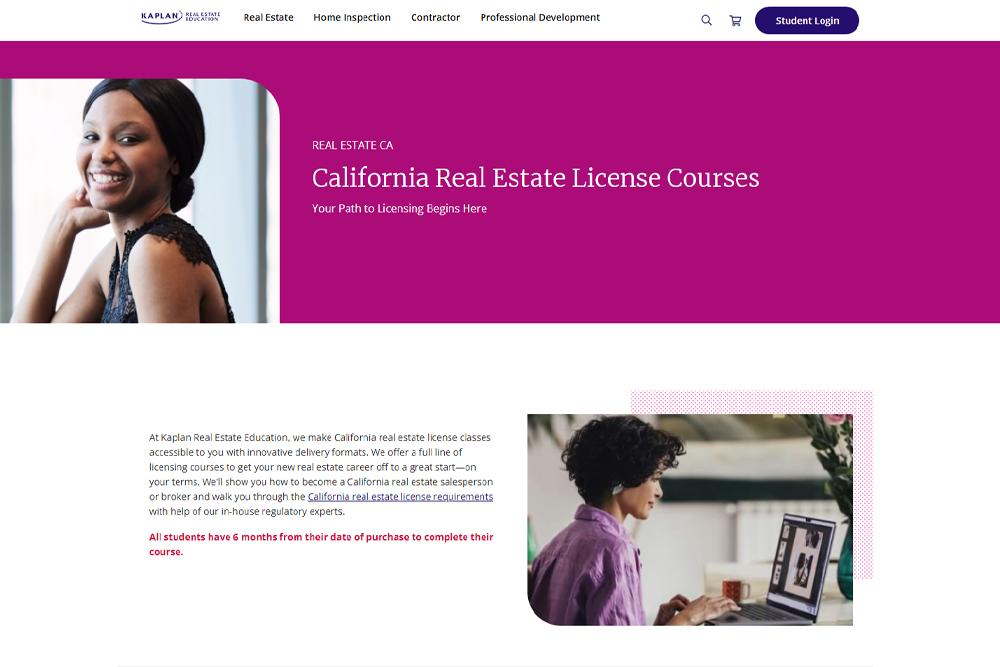 If you're interested in a brief self-study package, Kaplan can provide one to you for just $180. On the other hand, if you want real, useful education, you'd be better off looking elsewhere. Sure, Kaplan offers a "career booster" package for an exorbitant fee, but it doesn't really include much, and certainly not enough for the price it charges.
Previously known as Real Estate Express, Colibri is a national company focusing on providing real estate education across the country. They have customized programs for each state, with some getting more attention than others. Fortunately, as a large state with a huge population, California gets a decent amount of attention, and their program is relatively good.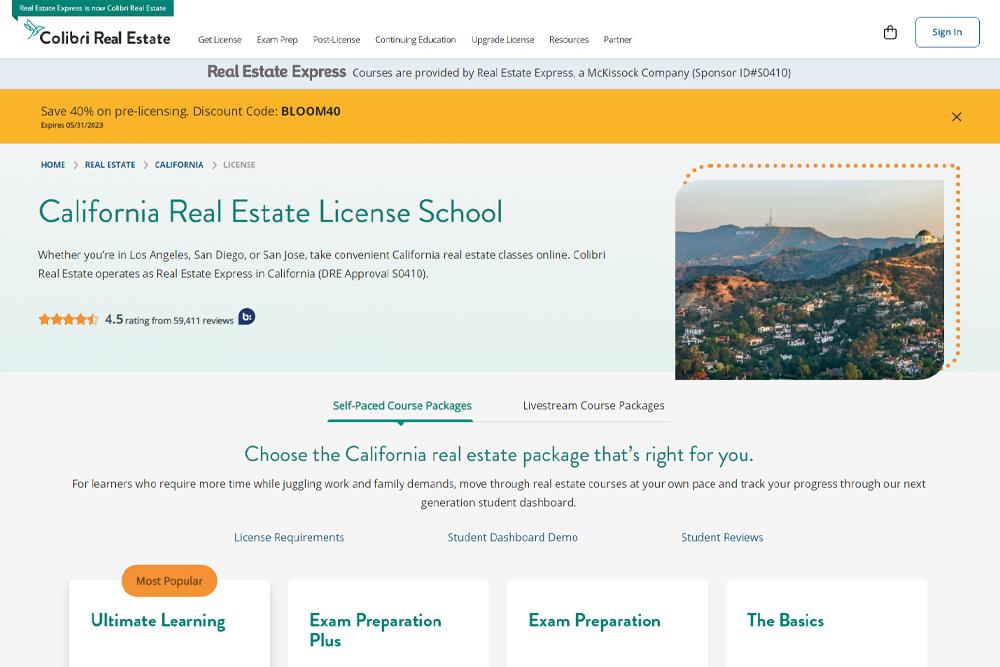 One of the biggest benefits of Colibri is the flexibility in their arrangement of packages. You can go with a barebones, self-directed package for a pretty low fee, or you can get more advanced, guided packages with exam prep materials and more. Their courses are approved by the Department of Real Estate, so it's just a matter of making sure you learn everything you can from the materials provided.
How would you like a comprehensive program backed by over 20 years of successful experience in helping students pass the exam? What if it had over 2,000 students every year, passing their exams often on the first try? What if, if you didn't pass, that program covered your exam fees for repeat tests until you do pass?
That's what we offer here at License Solution. Our packages are priced to be as competitive as possible while offering comprehensive education, high-quality courses, and full approval from the Department of Real Estate. With thousands of 5-star reviews, an A+ rating from the BBB, and many thousands of successful students (many of whom are now in broker positions), we like to think we're the ideal choice for something cheaper than university education but better than your average online school.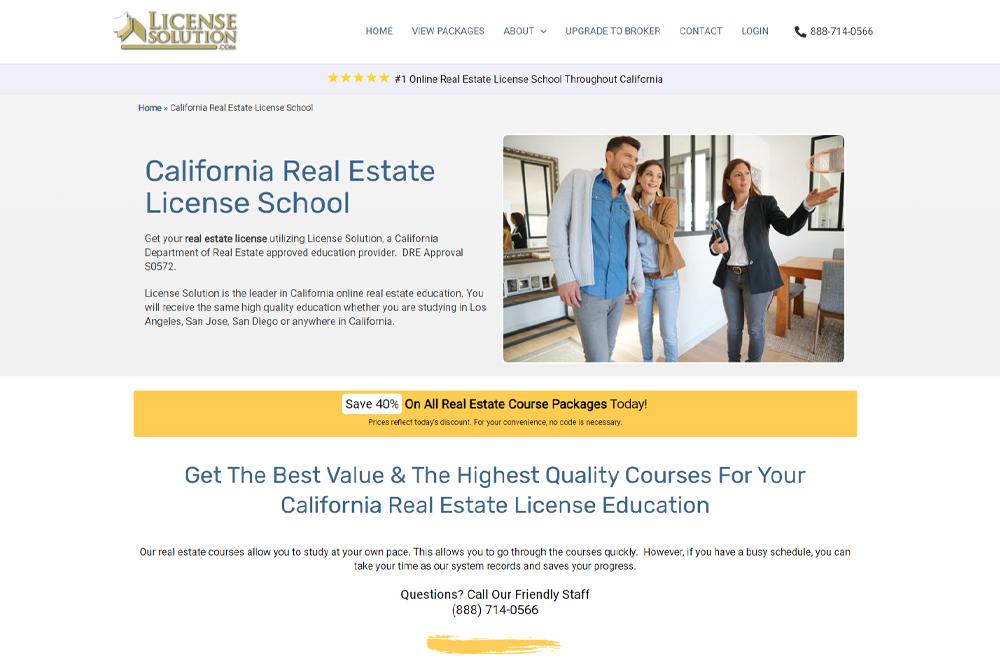 What is our pricing? We offer four packages:
Bronze, a basic package for self-guided study. It's normally $165, but is currently on sale for $99.
Silver, an improved package with audio courses and study aids. It's normally $249, but is currently on sale for $149.
Gold, an exceptional package with added video lessons and practice exams. It's normally $299, but is currently on sale for $179.
Platinum, a premium package with a crash course, crash course videos, and more. It's normally $365, but is currently on sale for $219.
If you're interested, feel free to
drop us a line
. We're always standing by to answer questions, help you pick a package, and even help you decide if real estate is right for you.
If you're looking for any further information about California real estate schools, the real estate exam, or anything similar, be sure to check out our other articles covering those topics.