Getting your real estate license, so you can work for a licensed real estate broker in the state of California, is not an easy task. Before you even get to the exam, you need to pass three college-level courses on real estate.
What do these three courses entail?
The first must be centered on Real Estate Principles and will cover the bases for a strong foundation in real estate. It's everything you need to know about how real estate works in general and the theory that goes into it.
The second is Real Estate Practice. This course generally builds upon the knowledge you gain in Principles and helps you know how to put those principles into practice. It includes a lot more practical knowledge, in particular about the laws and regulations of real estate, how to calculate tangible data points like commissions, and more.
The third course is an elective. You can choose from many different subjects, including (but not limited to) finance, legal aspects, property management, appraisal, or economics and escrow. All of these are courses that dig deeper into specific elements of real estate and are generally aimed at individuals looking to pursue specific kinds of careers in real estate, like that of a property appraiser or complex manager.
As a side note, we generally recommend Real Estate Finance as your elective unless you have a specific reason to pick something else, like a strong focus in something like property management or law, or a strong grasp of math from another source. This is because the exam has a lot of questions that boil down to being finance questions, so the more you know about finance, the better prepared you are to pass the exam on your first attempt.
Taken all together, these three courses have to total up to 135 hours of education. You can get this education in a variety of different ways, including:
Community college programs for real estate
University programs from the University of California or California State University
Courses from vocational schools or private institutions offering real estate education paths
Remote or correspondence courses from institutions further afield
Online course programs that are evaluated and sponsored by the Department of Real Estate
With so many different options, it can be hard to know where to begin. To that end, we've put together a list of the best educational institutions and real estate schools you can use to get this foundational education and prepare you to pass the real estate exam.
University of California San Diego
Website: https://usp.ucsd.edu/academics/red/major.html
UC San Diego is part of the broader University of California educational system. It's also one of the state's leading real estate programs, with the most comprehensive and valuable degrees you can possibly get. Their Major program is incredible, and their Minor program is still more than enough to prepare you for the real estate exams, alongside another major or simply as a stand-alone set of educational credits.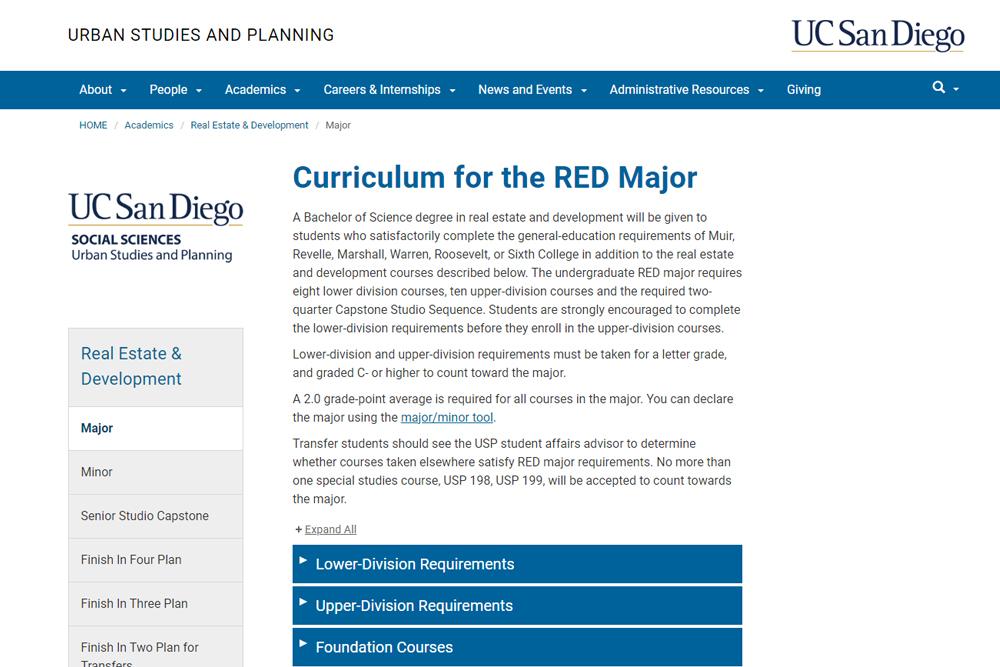 Of course, education at one of the top institutions in the state (and even the country) is not cheap. As a full university system with a degree program, you're paying higher education costs. Tuition and fees for the University of California system-wide (so not just the San Diego branch) is currently $16,827 per year. There is always financial assistance available, including loans, scholarships, and grants, but you have to make sure you qualify for them or earn them ahead of time.
The education you receive is top-tier, but the cost you pay for it can leave you in a disadvantageous position for the first few years of your real estate practice.
California State University
Website: https://ecatalog.calstatela.edu/preview_program.php?catoid=66&poid=29931
The other major state university system in California, CSU, also offers real estate courses you can take to prepare yourself for the licensing exam. In this case, it's actually a degree in Business Administration with an emphasis on real estate, which is great for individuals who want to build up from salesperson to broker to real estate magnate.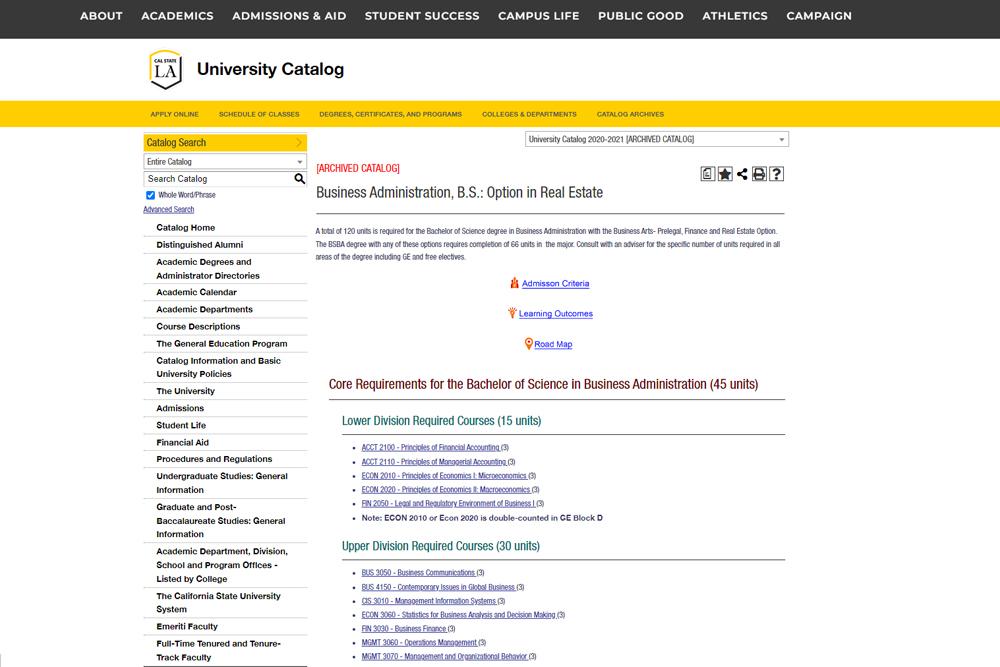 As with any university program, you're going to be paying for this high-quality education. In the case of Cal State, you're looking at somewhere between $5,000 and $7,000 per year for your course units, with at least two (and more often four) years of study to get the full degree.
To be honest, with all of the community colleges, online course programs, and other options for getting a real estate education, you don't need to shell out for full university education. Only pursue it if you want the full university experience, you have a variety of scholarship or grant options, or you have other reasons to want a full degree program.
San Diego Mesa College
Website: https://www.sdmesa.edu/academics/v2/programs/real-estate/index.shtml
Mesa College offers an Associate of Science degree in Real Estate, which is an excellent foundation for practicing real estate and hitting the ground running. As a community college in California, the college has to meet many stringent requirements from the state in terms of the quality of education they provide, so you know you're getting some high-quality education from the school.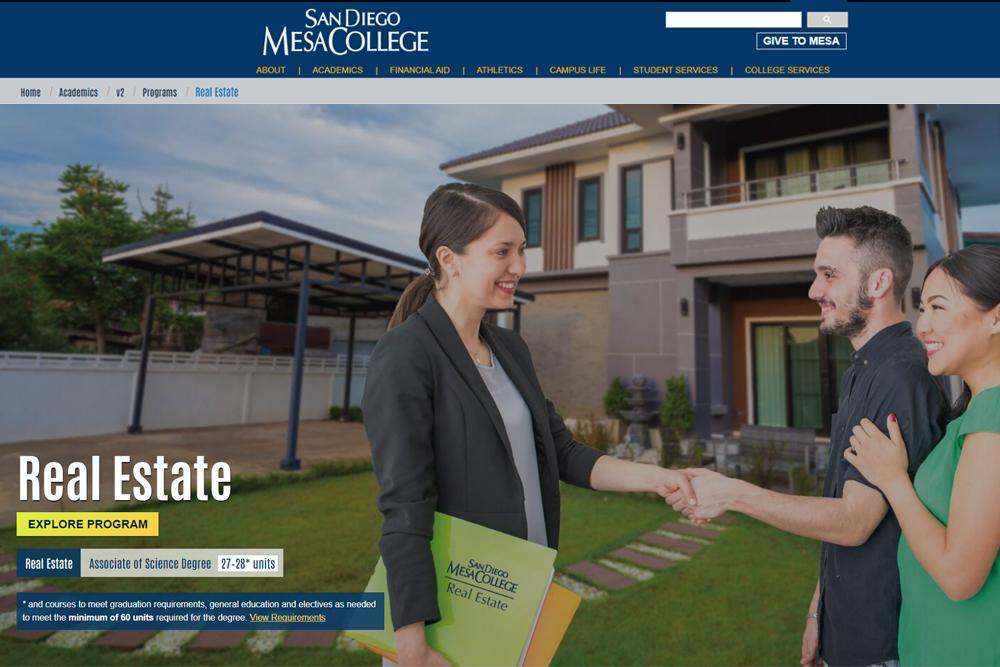 Community colleges are generally less expensive than full Universities, but that doesn't make them cheap. As a full Associate's Degree program, Mesa's courses are comprehensive but go well beyond the minimum 135 hours of learning you need to take the salesperson exams. The general cost of attendance is around $46 per unit, and the real estate degree program is 27 units, for a total of $1,242 minimum for your education. That doesn't account for additional enrollment and application fees, transportation fees, and anything else relevant to attending school in San Diego.
Southwestern College
Website: https://www.swccd.edu/programs-and-academics/programs/real-estate.aspx
Another local community college with a branch in San Diego, Southwestern has a decent reputation and three different programs for real estate.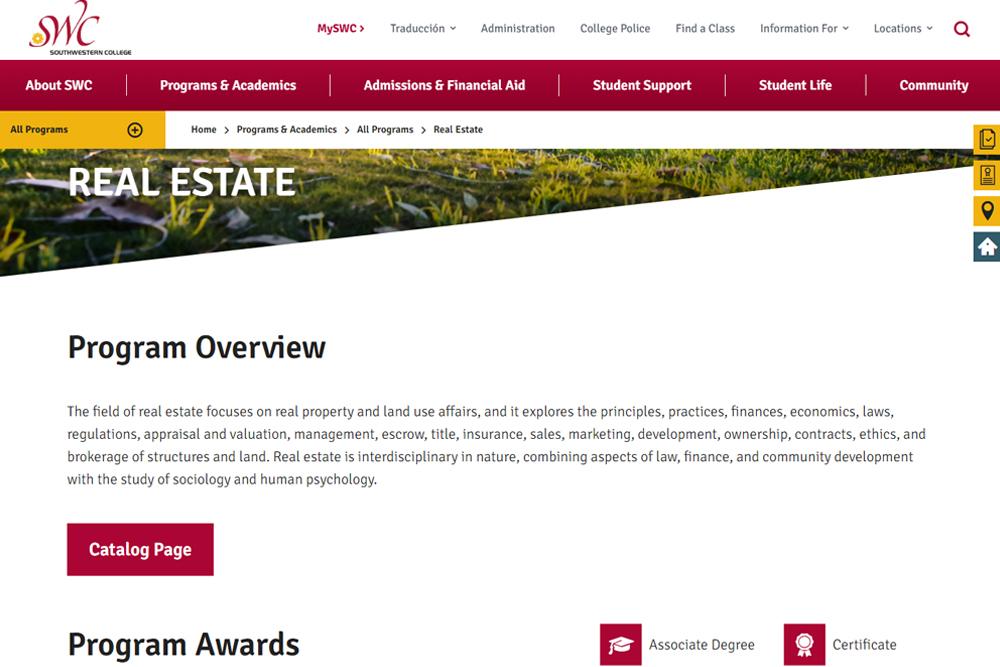 You can get:
An Associate in Arts (Real Estate)
An Associate in Science (Real Estate)
A Real Estate Certificate of Proficiency
Of the three, the certificate is the cheapest, running you 9-10 units of courses. Tuition to Southwestern is the same as Mesa, $46 per unit. Both Associate degrees are 26 units as well, for a total cost of just under $1,200, excluding various other fees as usual.
Overall, unless you plan to transfer your credits or rely on your degree to carry weight outside of California, the certificate program is probably your best option here. It's bare-bones, but it's enough to get you started with real estate as a career and earn your license.
School of Real Estate
Website: https://schoolofrealestate.us/packages/
Based in San Diego, this online school is focused solely on real estate, offering packages pretty similar to what we offer. Their Gold package provides textbooks, courses in the two required courses and Legal Aspects as an elective, and gives you in-person classroom courses twice per week.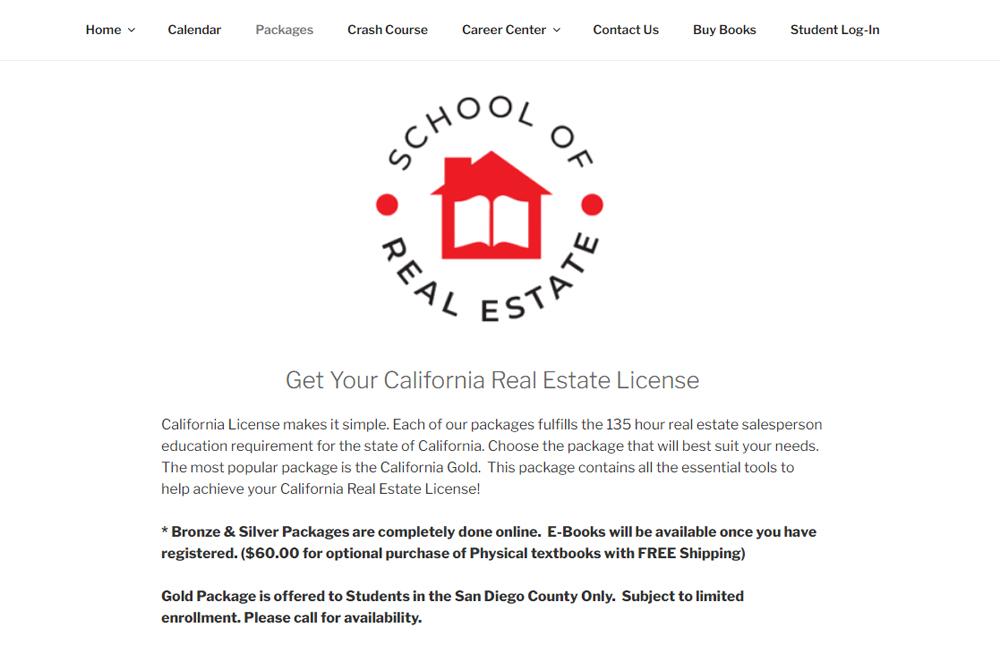 There are two significant downsides to this particular educational institution. The first is their scheduling. Their classes are only offered on Tuesdays and Wednesdays, so you really need to be able to schedule your own life around the courses. If you aren't able to clear out those days, you're going to be in a difficult position.
The second is the price. Their gold package, which is the most likely to get you where you need to be in terms of preparation for the California real estate exam, is $700. That's quite a chunk of change for an online course, and when you consider that just under twice that gets you a full Associate's degree, you have to wonder what you're paying for. Is it worth it? That's for you to decide.
Kaplan Real Estate Education
Website: https://www.kapre.com/real-estate/california/licensing-courses
Kaplan is a business primarily focusing on a variety of different kinds of tests and exams. While the California real estate exam is one of them, they also offer test prep services for a range of major standardized tests, like the SAT, ACT, GRE, LSAT, and MCAT. What this means is that they're great at test prep but a little less great at specific nuances of certain types of education.
To put it simply, they're more focused on preparing you to take the test and less about preparing you for a successful career after you pass. There's virtually nothing in post-licensing support.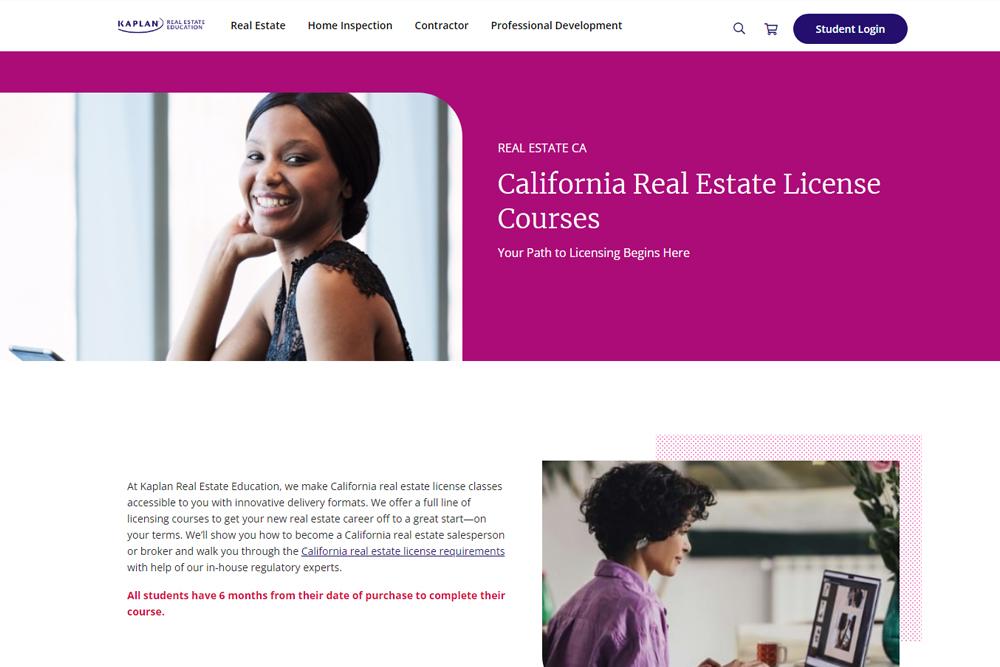 They offer a lot of different course packages and individual courses, with pricing ranging from $180 for the bare-bones self-study package up to nearly $1,000 for a "career launcher" course slate full of self-help and motivational products like a copy of Dale Carnegie's Win Friends and Influence People: Secrets of Success Online Video Course. We're not sure that's worth an additional $500, but if you really want it, maybe it is.
Colibri Real Estate
Website: https://www.colibrirealestate.com/real-estate/california/license/
Colibri Real Estate is a national company with a range of courses that are largely the same, with a handful of state-level customizations thrown in when you choose the state you want to study for. Formerly known as Real Estate Express, this online course provider is cheaper than many in-person schools and college programs, but that's not saying much. They're still generally quite expensive, with the absolute most basic, barebones plan running $141, and the premium course with exam prep and post-licensing support is $456.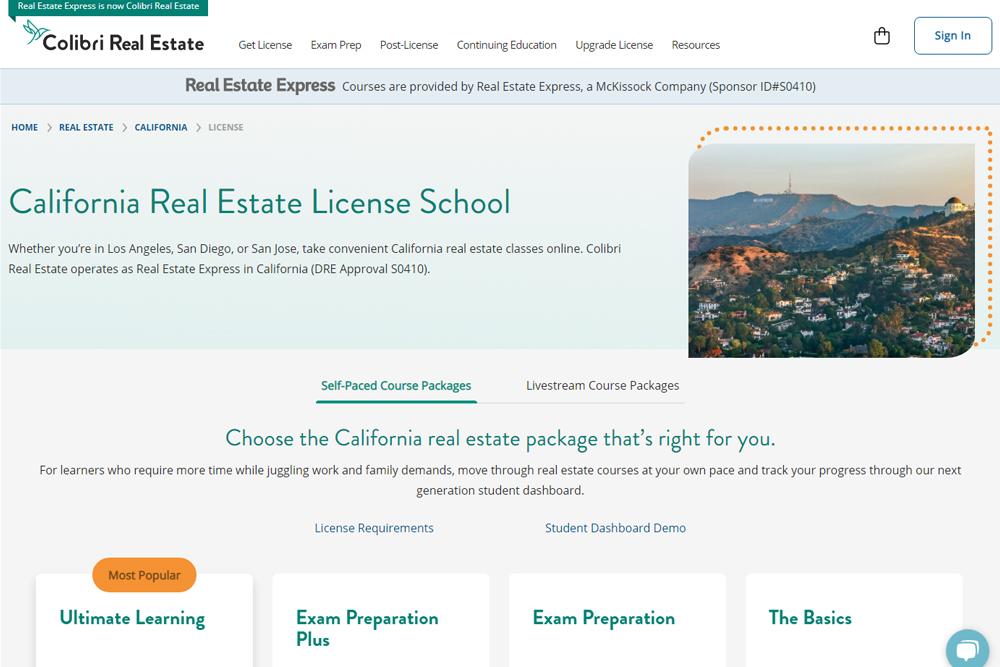 As a national educational facility, Colibri is one of the largest institutions on this list, but it's always questionable how well they can engineer a set of courses to cover the information required to pass state-specific exams. They're state-approved, and California is a large enough market they've likely focused on it, but it's still a question you'll want to ask yourself before enrolling.
License Solution
Website: https://licensesolution.com/california-real-estate-agent-license/
At License Solution, we have over twenty years of experience in helping students learn everything they need to know to successfully practice real estate, and every year, over 2,000 students pass their exams, often on the first attempt. Even though we're confident in our courses, we still offer a guarantee: if you don't pass your exam, we'll cover the fee, and we'll keep covering it until you do.
Our courses are comprehensive, high-quality, and approved by the Department of Real Estate in California. We also have thousands of five-star reviews and an A+ rating with the BBB. We're more than happy to discuss any questions or concerns you may have, as well. Just drop us a line!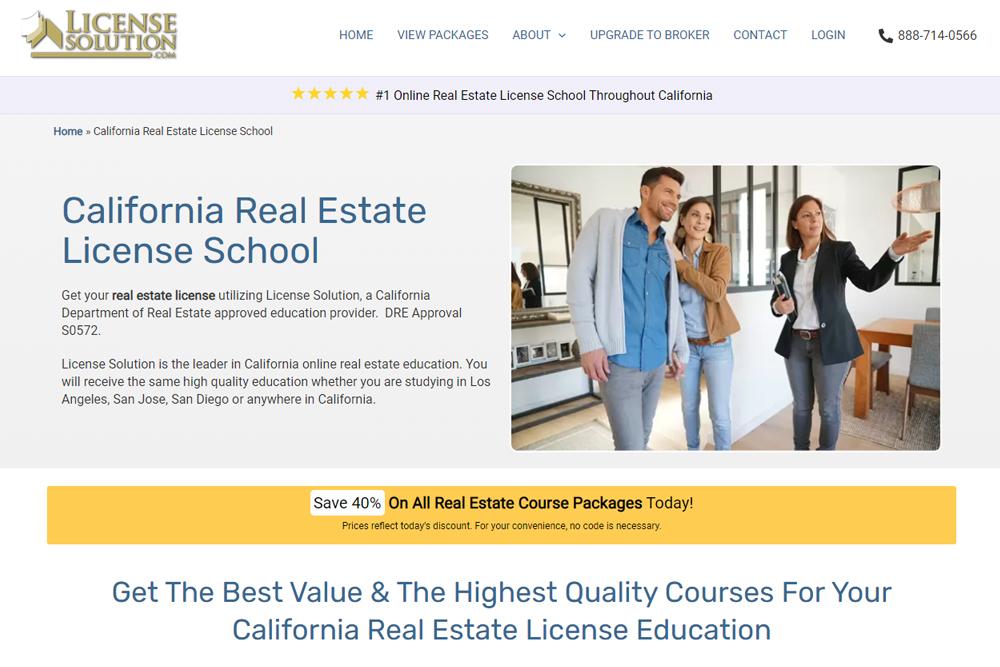 With all of that in mind, surely our courses are expensive, right? Nope! We offer four affordable packages to suit your needs:
Bronze, the basic package for independent study, normally $165, is on sale for $99.
Silver, the improved package with audio courses and study aids, normally $249, is on sale for $149.
Gold, the exceptional package with added video lessons and practice exams, normally $299, is on sale for $179.
Platinum, the premium package with a crash course, crash course videos, and more – normally $365, is on sale for $219.
What are you waiting for? As the best option for flexible, independent, and well-supported study to meet your education requirements and prepare yourself for the real estate exam, we're waiting to hear from you any time.
Further Alternatives
Now, we've barely scratched the surface of educational institutions offering real estate programs. Many online courses exist, but they're often out of balance; they're either more expensive, offer less, or both compared to our course packages. The few that may seem comparable have such poorly-designed websites that we don't want to even link to them, let alone trust them to have modern education and information in their courses.
That said, if you have a great recommendation for a real estate course program that can prepare a student for their salesperson exam and beyond, feel free to let us know in the comments. We'll do our best to evaluate it and offer our feedback, and maybe even add them to the list.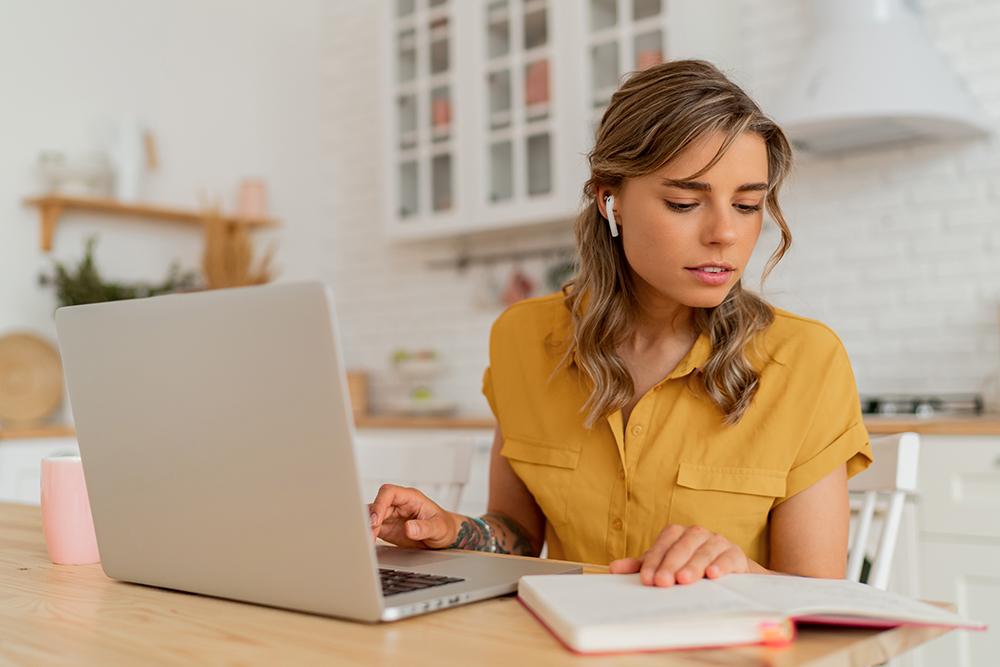 Honestly, though, with our courses available right here, why would you need anyone else? Just give us a call if you have questions, or click through to get started right away. And if you're in need of any further information regarding the California real estate exam, schools, or anything similar, be sure to check out our other blog posts! You're bound to find information useful for your needs.