Becoming a real estate sales agent, California real estate salesperson, or broker in the state of California can be a complex process.
The state department of real estate, or DRE.ca.gov, requires an exam to earn a license to buy and sell real estate professionally. However, they offer little in the way of education to prepare you for the exam.
The official site mentions five options:
Courses from community colleges, potentially even an Associate of Arts Degree in Real Estate.
Courses through the University of California and the California State University system.
Courses from foreign institutions that meet the criteria necessary to qualify.
Courses from vocational and private schools that have gained permission to teach such courses.
Correspondence coursework from approved educational institutions.
If you're interested in pursuing a license application to sell or broker real estate in California, you need the necessary education, whether it's a pre-licensing course like ours or a college education if you have any hope of passing the licensing exams. There's a lot to know about the licensing process, though, and it can be confusing before you even get into studying for the actual exam. What FAQs do you need to know?
Here are some of the most common questions we see, along with detailed answers.
What Are the Requirements to Attend California Real Estate School?
This varies depending on where you want to get your pre-licensing education. The institutions with the steepest requirements are going to be universities, of course, while community colleges are easier to enroll and online correspondence courses are the easiest. For example, our online course packages have no requirements other than the ability to buy them. It's also much less expensive than a complete college education, making it an excellent option for budding real estate practitioners looking to take their first steps into the industry.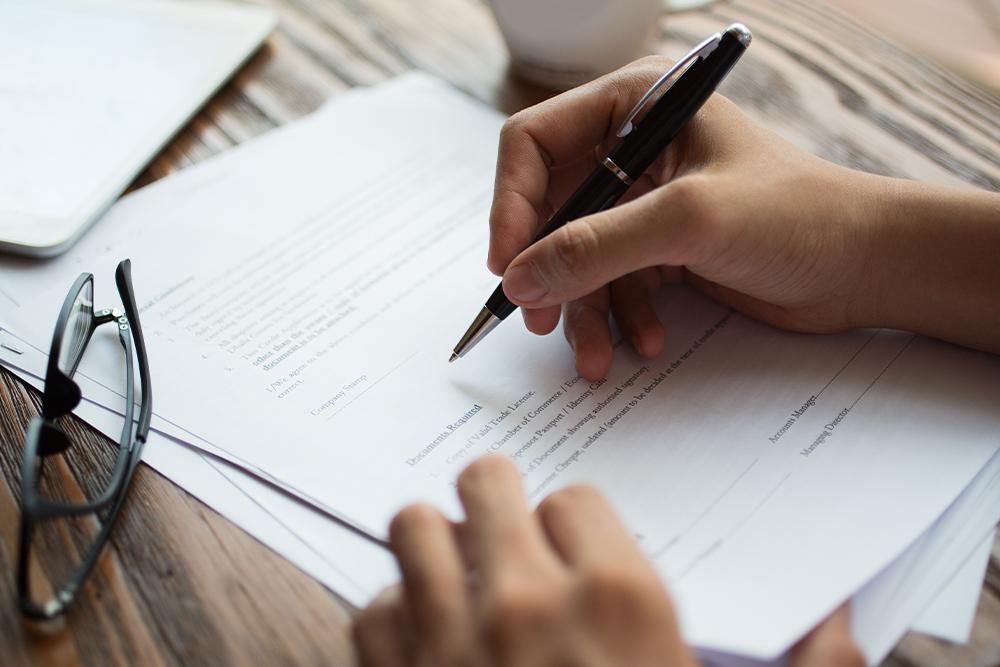 On a more technical level, there are state requirements. You must be at least 18 years of age to get your California real estate license, and you must have a valid form of ID. You don't need to be a resident of the state, nor do you need to have a higher education degree, diploma, or even GED.
Lastly, you must have legal residency or be a US citizen, and have no convictions or disciplinary actions involving fraud or dishonesty, according to the California Bureau of Real Estate (CalBRE).
Do You Need a College Degree to Attend Real Estate School in California?
Not at all! The California real estate licensing exam requires that you have a certificate of completion stating that you have passed three college-level real estate courses.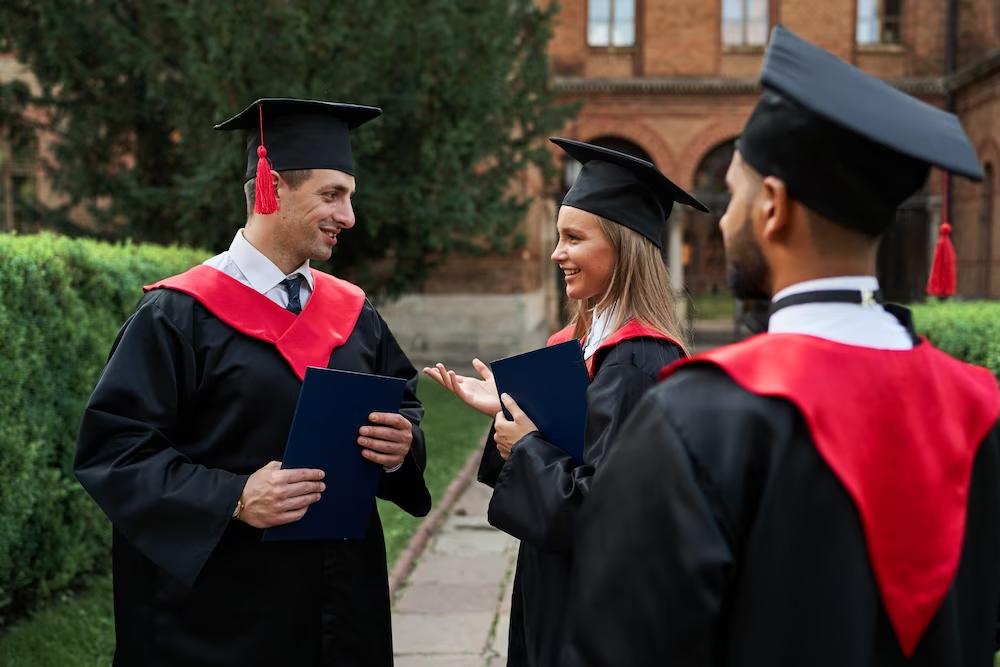 You don't need to have a college degree in order to attend those courses, even though they are called "college-level." In fact, many real estate agents choose to pursue real estate as an alternative to an expensive college degree.
What is the Purpose of California Real Estate School?
Real estate school exists for one purpose: to teach you everything you need to know to become a licensed real estate agent in California. Since the state requires a licensing exam to get your salesperson license, and since that exam is challenging, real estate school exists to prepare you to take and pass that exam.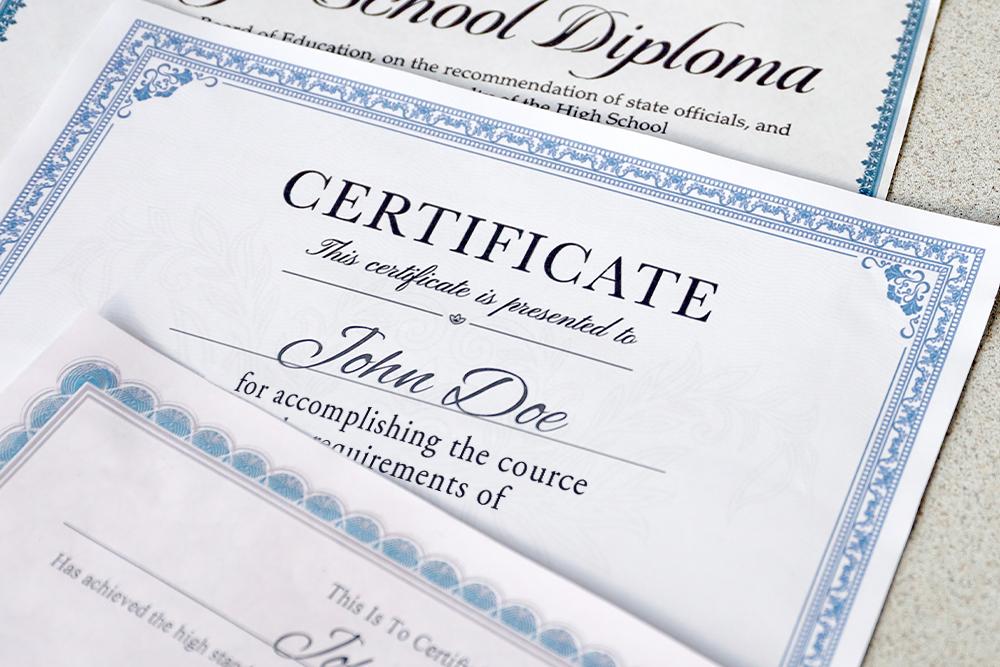 While there are undoubtedly other ways to study and focus on exam prep, you eventually need to earn certificates to prove that you've passed the minimum level of education required to practice real estate, and that involves some form of real estate school.
What Does California Real Estate School Entail?
Again, this varies based on where you choose to get your education. When you enroll in our packages, you get immediate access to the complete course with eBooks, interactive course classes, and the full 135-hour course selection.
You also get live student support and access to an instructor for questions. Some packages also include additional practice exams and study aids like flash cards.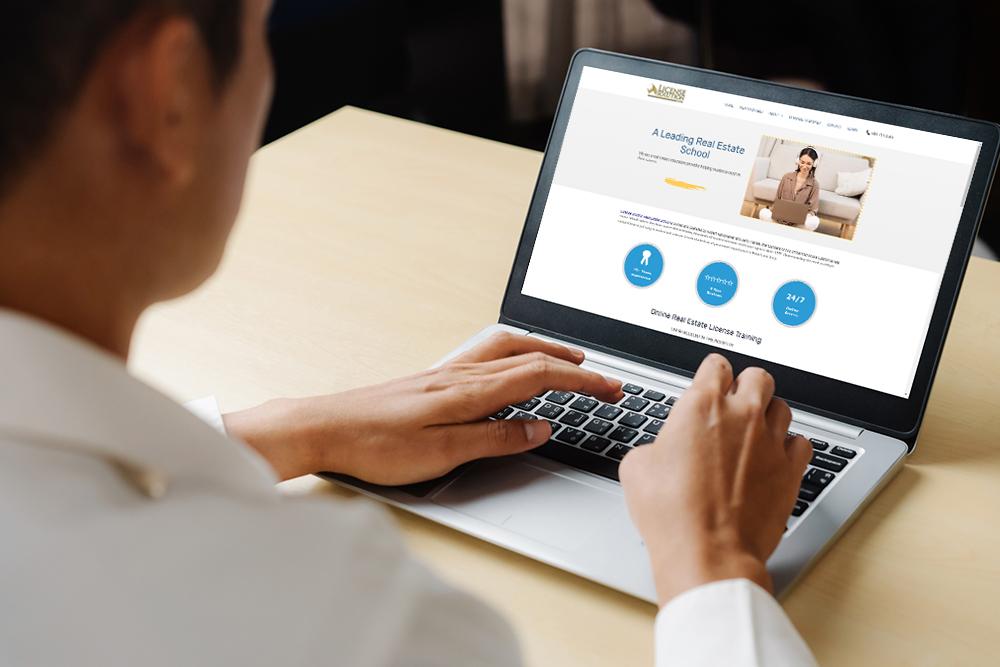 The actual process for taking the courses is up to you. They are interactive courses with quizzes, study books, and plenty of materials to learn everything you need to know to pass the state exam. It's up to you to decide how you study most effectively across these courses.
How Long is Real Estate School in California?
There isn't a fixed length for the courses involved in real estate school, so you will find courses available that are very short and very lengthy and everywhere in between.
The state of California requires passing three courses, two of which have a fixed subject: Real Estate Principles and Real Estate Practice.
The third course is an elective.
We recommend choosing Real Estate Finance, but we also offer Legal Aspects, Property Management, Appraisal, or Economics and Escrow for your elective if you so desire.
Note that, according to new legislation signed by Governor Newsom, starting January 1, 2024, all real estate courses must also include two modules. One is a component on implicit bias, including education about systemic biases, the impact of biases on consumers, and the social and historical impact of bias in real estate, along with actionable steps for a student to address their own biases. The second is a module covering the fair housing laws that apply to real estate at the state and federal levels. This must include an interactive segment where the student plays the roles of both consumer and professional to see the issues from both sides. You can read more about this new revision here.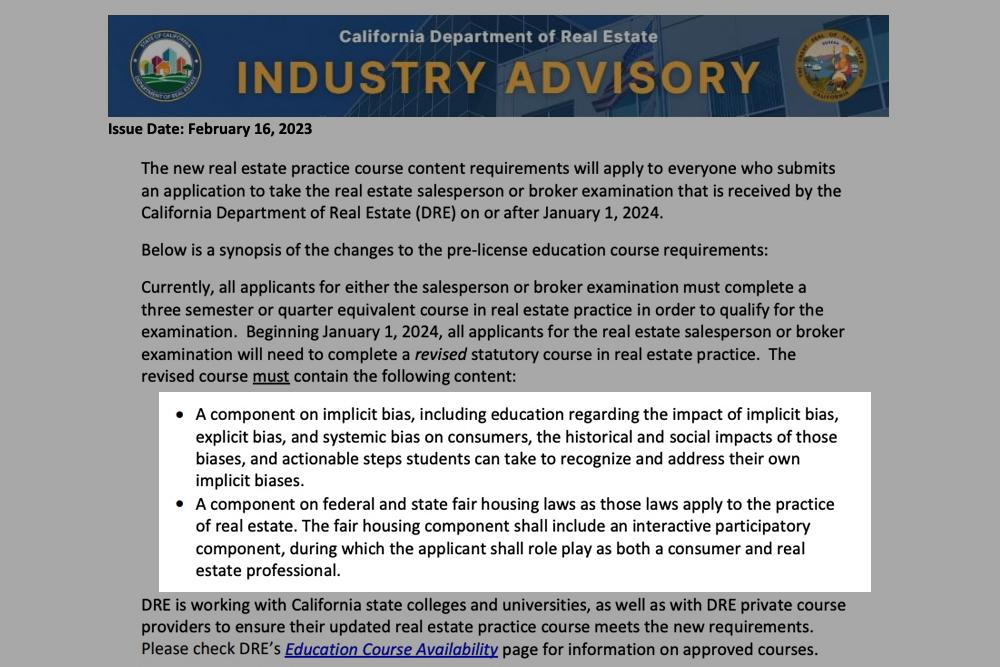 The minimum time involved in these courses is 135 hours.
It will be challenging to pass the real estate exam without learning all of the information in those courses. However, there's no upper limit on how long you spend studying. If you would prefer to take twice as long to go through each course with a fine-toothed comb, learning every detail you can, you can do precisely that.
Also, there are video-enhanced crash courses available that can help you study before taking the exam, which may be easier than reading hundreds of pages worth of course material. There are also courses backed by a guarantee that pays for your California exam fee in case you fail (like ours!), which is even better.
How Often Do I Have to Renew My Real Estate License in California?
Once you have passed the real estate exam and gained your license, you will be required to take 45 hours of continuing education every four years before your renewal of the license.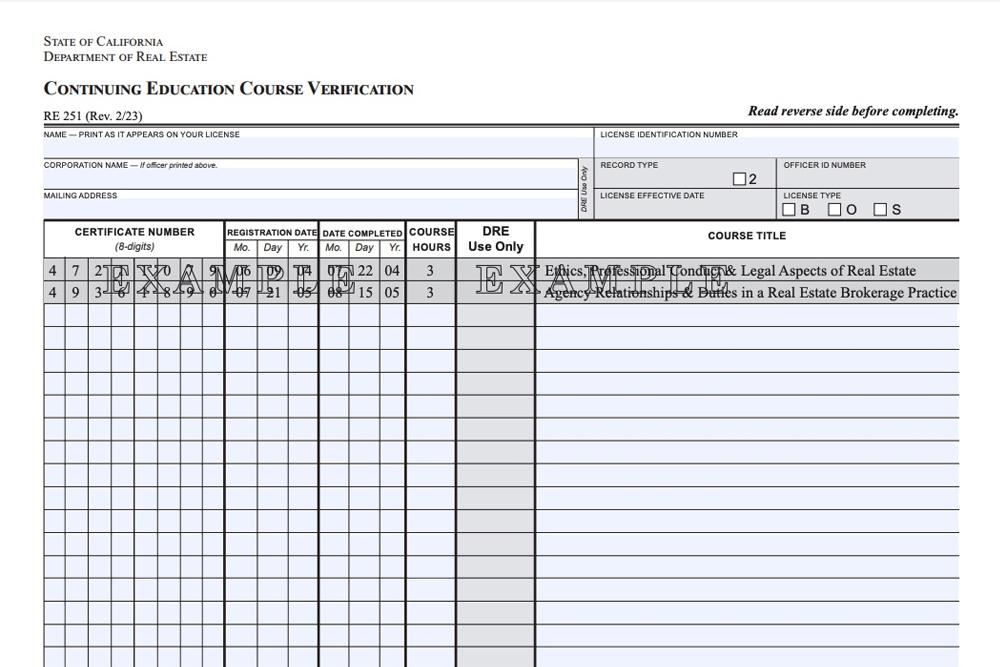 The renewal period begins 90 days before the expiration date of the license and ends on the expiration date. In simpler terms, you can start the renewal process once your license is about to expire in less than three months.
Real estate brokers also have a 45-hour continued education requirement to renew their broker license, with different teaching on the docket.
What's the Best School for California Real Estate?
We're biased, but we believe that our courses are among the best available in California. Our courses are officially sponsored and approved by the California Department of Real Estate.
More than that, we successfully help over 2,000 students get their real estate licenses every year.
We've maintained a 5-star rating on Yelp and Google and have an A+ with the Better Business Bureau. On top of that, we have many testimonials from satisfied students who passed their exams on the first try. We're so confident that you'll pass that we'll even cover the state fees to retake it until you pass.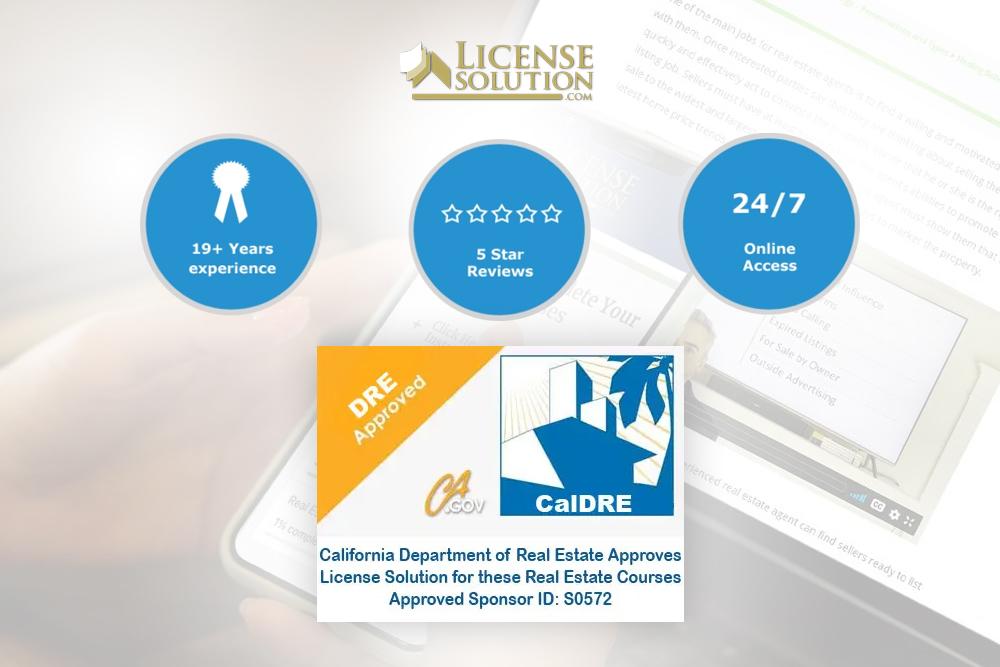 Study the courses, take the quizzes, and call us to ask any questions you may have, and you'll earn your license in no time.
How Much Does California Real Estate School Cost?
Much like most other details with California real estate schools, pricing varies depending on where you choose to get your education. Taking a real estate degree path from the University of California will be tens of thousands of dollars. Communities colleges are generally cheaper but still expensive as institutions of higher learning.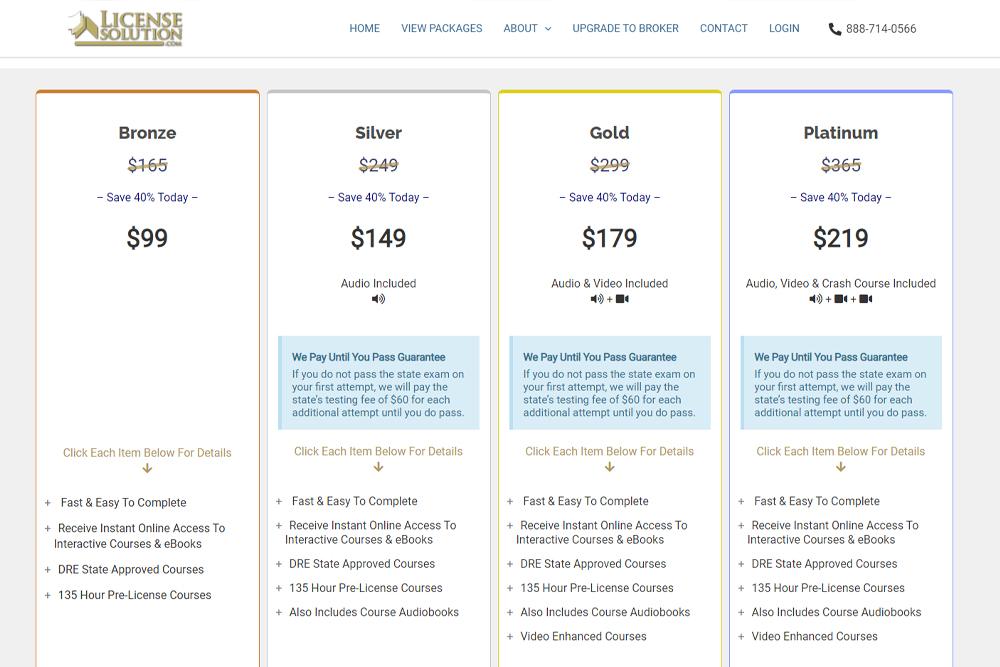 By contrast, our real estate school course packages are extremely affordable.
Bronze, the basic package for independent study, is $165 on sale for $99.
Silver, the improved package with audio courses and study aids, is $249 on sale for $149.
Gold, the exceptional package with added video lessons and practice exams, is $299 on sale for $179.
Platinum, the premium package with a crash course, crash course videos, and more – is $365 on sale for $219.
That said, you will likely see more expensive courses available. Our courses are often on sale for an excellent discount, so you can consider these the most you'd have to pay. It sure beats tens of thousands of dollars for a university education, right?
The actual exam is generally a $60 fee paid to the state of California. If you pay to take the test and you fail, taking it again costs another fee (unless you're backed by our courses and guarantee), and if you pass, the license fee is $245. Once you have that license, you're free to work for an accredited broker and buy and sell real estate professionally in California.
How Hard is the California Real Estate School Exam?
That's a great question.
Some people find in-person tests (in a high-pressure environment) to be exceptionally difficult. Others pass exams with ease as long as they've had enough time to study for them. The difficulty of the exam is balanced to be high, with a 50% failure rate according to the DRE, requiring a college-level set of courses to learn everything you need to know to practice real estate ethically and effectively.
That said, our courses can help you make short work of the exam and give you exactly what you'll need to know to pass.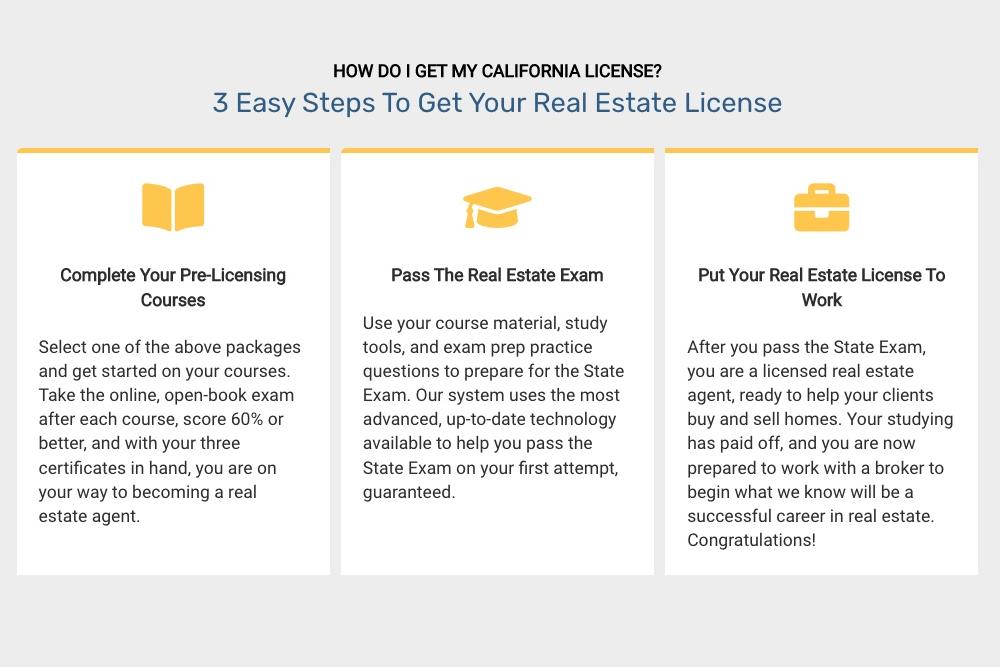 If you're worried about being properly prepared for the test, you don't have to be; our courses are approved to provide everything you need to know to pass the exams. We also offer practice exams and crash courses to make sure you feel confident in your knowledge.
What Kinds of Questions Might You See on the Real Estate Exam?
The examination you'll be tasked with passing is 150 questions, and you must get at least 70% of the questions correct in order to pass.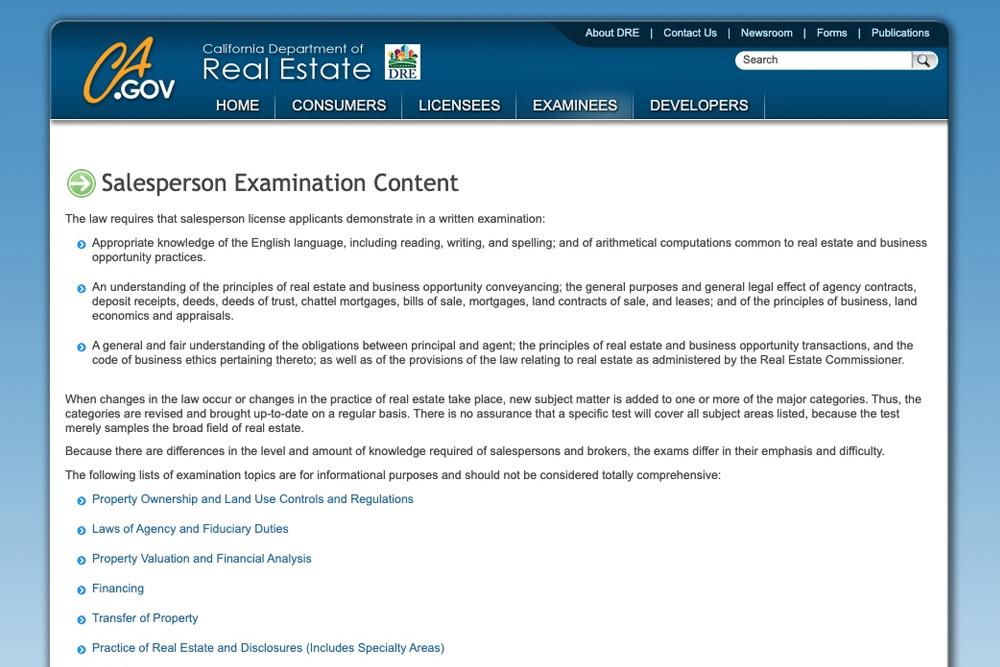 According to the DRE, the questions are divided into seven sections:
The Practice of Real Estate and Disclosures – 25% of the exam (37-38 questions)
Laws of Agency and Fiduciary Duty – 17% of the exam (25-26 questions)
Property Ownership and Land Use Controls and Regulations – 15% of the exam (22-23 questions)
Property Valuation and Financial Analysis – 14% of the exam (21 questions)
Contracts – 12% of the exam (18 questions)
Financing – 9% of the exam (13-14 questions)
Transfer of Property – 8% of the exam (12 questions)
The final exam questions are pulled from a pool of questions, all of which are answered and broken down in our courses. You can also take practice exams to gain familiarity with the kinds of questions you're likely to be asked, the kinds of thought that will need to be put into the questions, and how long you'll be able to spend on each question.
Note: Calculators are provided during the exam; some questions will require them to make sure you're accurate with, for example, financial calculations and appraisals.
Is There a Difference Between the Salesperson and Broker Exams?
Yes. The salesperson exam is available to anyone who has studied the requisite courses and earned their certificates.
The salesperson exam is 150 multiple-choice questions taken in a 3-hour period.
The broker exam is limited to people who have worked as salespersons under a broker for at least two years or who have two years of full-time experience as escrow or title officers, sub-dividers, contractors, or speculative builders in real estate with duties relevant to the finance and development aspects of real estate, or as a property appraiser.
The broker exam is 200 questions over four hours. Our broker course package, for $175, offers everything you need to know to make sure you pass the exam.
Once You Pass, Can You Practice Real Estate in Other States?
Yes and no.
California's real estate salesperson license does not have reciprocity with other states. Due to that, your California license won't authorize you to practice real estate in other states.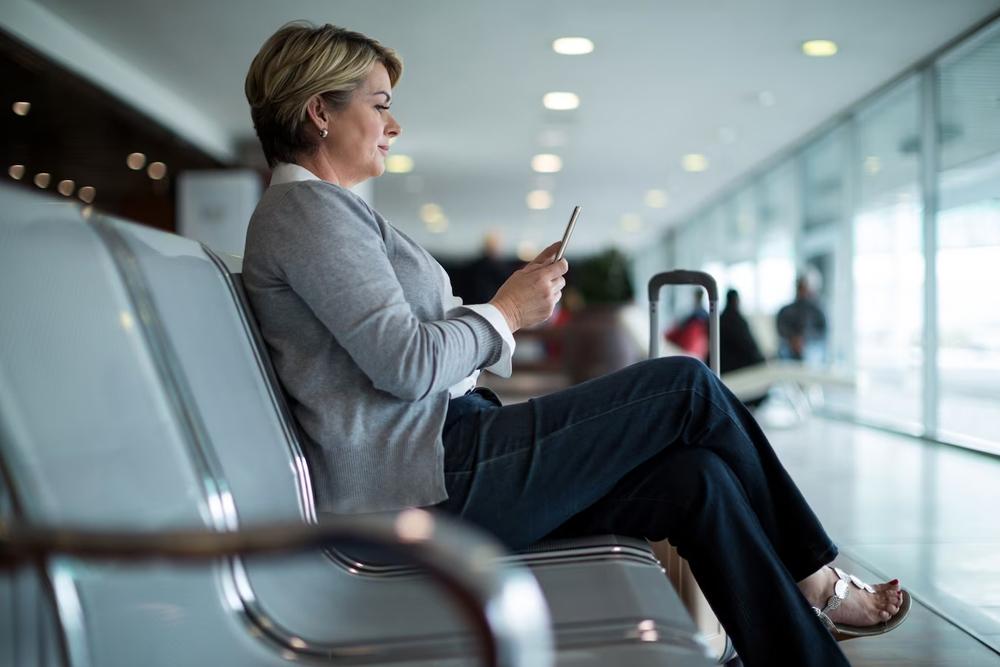 However, your education carries with you, so it will be a bit easier to take any exams in other states. You may need to brush up on local laws, but you're starting from a stronger foundation.
Is it Worthwhile to Get Your Real Estate License?
Of course! Becoming a licensed real estate salesperson – and later, a broker – is a fantastic career path. There are many options within real estate for your real estate career to follow, from residential to commercial, contracts to finances, and much more.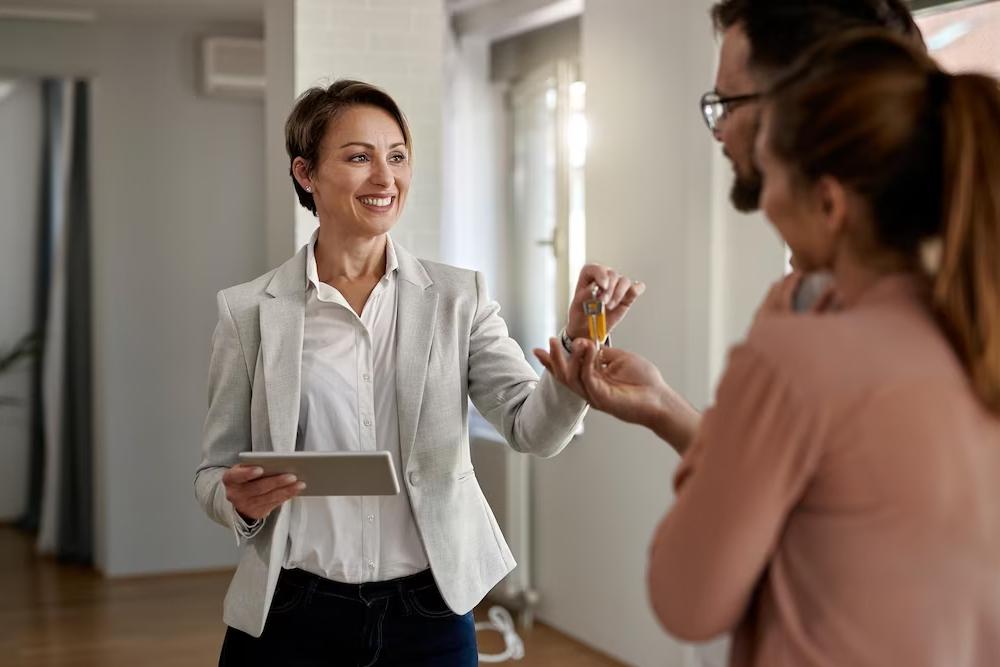 As a varied industry with the potential for a lucrative, life-long career, becoming a realtor is of the fastest growing careers to get into today. If you're interested in taking an online course to get your real estate license fast and efficiently, give us a call or check out our California Real Estate License School packages, starting at only $99.
Do you have any other questions about the California real estate testing and real estate education process? If so, feel free to ask us in the comments below or give us a call! We're always happy to help newcomers to real estate find their way through the process and earn their license.