California remains one of the most sought-after states for homebuyers, making it a prime opportunity for those seeking a career path as a real estate agent.
Obtaining your real estate license in California is surprisingly simple. Let's explore the information you need to know to make getting your real estate license a breeze.
Complete 135 Hours of Approved Pre-license Real Estate Courses
Complete the DRE application, including a background check
Prepare for the state exam
Take and pass the state exam
Find a broker to register your license with the DRE and begin working.

5 Simple Steps To Get a California Real Estate License
STEP 1. Complete The 135 Hours of Pre-license Education With A DRE Approved School
You can complete the pre-license education from a live classroom or your home through an online real estate school. It does not matter where you take your courses as long as the Department of Real Estate approves the school's real estate courses.
There will be three courses that you must take and pass before you are eligible to take the state exam.
Real Estate Principles (45 hours) – This foundational course covers the basics of real estate in California. It includes property ownership, land use controls, and regulations.
It also provides:
An understanding of the real estate market
Different types of real estate properties
The principles of real estate law
Real Estate Practice (45 hours) – Be sure the school you choose offers the new Real Estate Practice course that is SB1495 compliant. It is crucial since only the updated Real Estate Practice course will be valid beginning on January 1, 2024.
This course teaches you the practical aspects of real estate in California. It will cover topics such as listing and selling property, leases, escrows, management, and brokerage. It gives you a comprehensive view of the day-to-day operations in real estate.
Elective course (45 hours) – Real Estate Finance *Highly recommended
This course delves into the financial aspects of real estate transactions. It covers mortgage loan brokering, lending, loan processes, and regulations. Understanding how financing affects the real estate market and individual transactions is essential.
Additional elective courses which may or may not be available to each school include:
Property Management
Real Estate Economics
Real Estate Escrow
Legal Aspects of Real Estate
Real Estate Appraisal
Business Law
Real Estate Office Administration
Each of the three courses will require you to complete a final examination to receive your certificate of completion. You will need 60% or higher to pass.
The new SB-1495 Professions and Vocations law, approved on September 26, 2023, will require students to take an implicit bias module to complete the Real Estate Practice course. Your chosen school must include this module in its Real Estate Practice curriculum. California requires it by state law.
STEP 2. Apply To Take the California State Exam.
The application is completed online through the Department of Real Estate's website. However, you can mail or fax your application if desired.
We recommend applying for the state exam immediately after obtaining each of the three required course certificates. It can take up to six to eight weeks for the application to be processed and approved. Thus, you will have plenty of time to schedule your state exam.  The DRE gives you up to one year to complete the state exam once the application is approved.
When applying, you must submit your personal information to the Department of Real Estate (Birthday, Tax ID, Driver's License or Government ID, etc.) and proof of course completion to be eligible to schedule your state exam.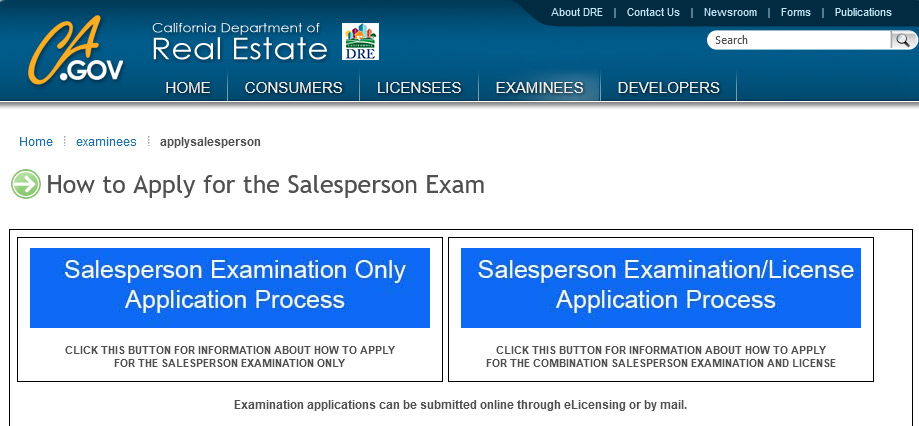 The application will also require a criminal background check. We recommend using a Live Scan service provider to have the fingerprinting done for the background check. You will need to take the Live Scan Service Request Form with you.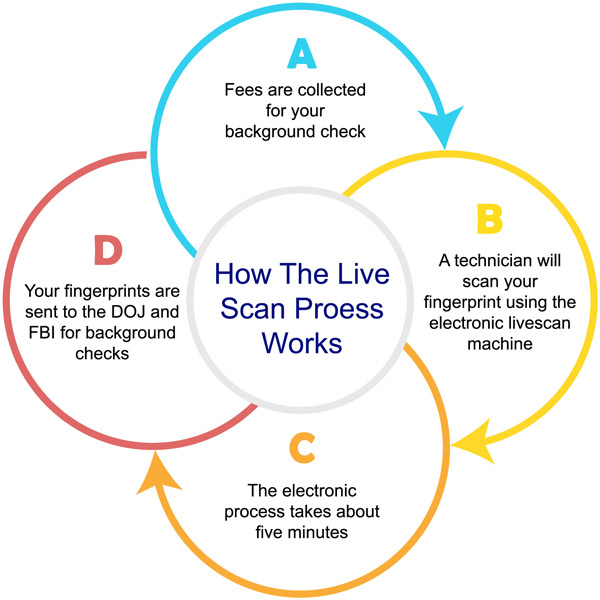 STEP 3. Prepare For The State Exam
Preparation is essential to passing the state exam on your first attempt. Thus, many real estate schools offer an exam prep to help you prepare for the state exam. Exam prep material is tailored to the test's specifics and topics, making it crucial for studying effectively.
It should mirror the actual state exam. This familiarity can significantly reduce test anxiety, giving you a better advantage when answering questions correctly.
Time management is also a critical factor in passing the state exam. The DRE allows you up to three hours to complete the questions. By becoming familiar with the simulated exams in the exam prep package, you will develop the skills to pace yourself through the exam. Being familiar with time management will be vital to even the most knowledgeable test taker.
So, take advantage of the state exam prep! You will be prepared and confident when walking into the test facility.
STEP 4. Take and Pass the Real Estate Salesperson Exam
Log into the Department of Real Estate's website to schedule your state exam when you feel confident you will pass.
You have three hours to answer 150 multiple-choice questions on the exam — a 70% or better score to pass and receive your real estate license.
What questions will be on the California state exam?
The exam will test you on the following categories:
15% – Property Ownership and Land Use Controls and Regulations
17% – Laws of Agency and Fiduciary Duties
14% – Property Valuation and Financial Analysis
9% – Financing
8% – Transfer of Property
25% – Practice of Real Estate and Disclosures
12% – Contracts
Where can I take the state exam?
The DRE offers exam administration at the following locations:
Fresno
State Office Building
2550 Mariposa Mall, Room 3004, 3rd Floor
Google Map
La Palma (Los Angeles & Orange County)
Department of Real Estate Electronic Exam Center
1 Centerpointe Drive, La Palma, CA, Suite 370, 3rd Floor
Google Map
Oakland
Elihu M. Harris State Office Building
1515 Clay Street, Room 703, 7th Floor
Google Map
Sacramento
Department of Real Estate Electronic Exam Center
1651 Exposition Blvd, Sacramento, Use North Entrance
Google Map
San Diego
Department of Real Estate Electronic Exam Center
8620 Spectrum Center Blvd, San Diego, Suite 301B, 3rd Floor
Google Map
Note: You can choose any location above to take your exam. For example, if you live in Los Angeles and want to take the exam in Sacramento, you can do so.
Is it difficult to pass the CA real estate exam?
The California state exam can be challenging for many students. It consists of 150 multiple-choice questions and a three-hour time limit.
The key to passing the state exam is threefold.
First, you must utilize an exam prep and take the time to study thoroughly. If your school offers practice exams, try to achieve a minimum score of 80% consistently.  A simulated exam prep will allow you to take the exam that looks and feels like the state exam. The mock exam is essential in getting accustomed to time management when answering questions. You want to be sure you can answer all the questions to give you the best opportunity for passing.
Second, there are many online study tools outside of what the school may provide. For example, YouTube has a vast resource of videos that offer explanations on various topics for the California state exam. Take time to search for topics in which you need more clarification. Some students find that a Live two-day crash course benefits their learning style in preparation for the exam. If you need to be more prepared, try a Live crash course.
Third, get a good night's sleep before you take the exam. A fresh mind will allow you to concentrate and make intelligent choices when answering questions.
If you prepare thoroughly and get plenty of rest, you can be confident that you will succeed in passing the state exam.
What if I do not pass the state exam.  Can I retake it?
Yes. You can reschedule the state exam as soon as you feel you are ready to take it again. You will need to pay the $60 examination fee upon scheduling.
The good new is that the DRE will give you a summary of your scores based on the "Subject Category". This will allow you to pinpoint your weaknesses on the exam and help you to focus on the categories you need to improve upon.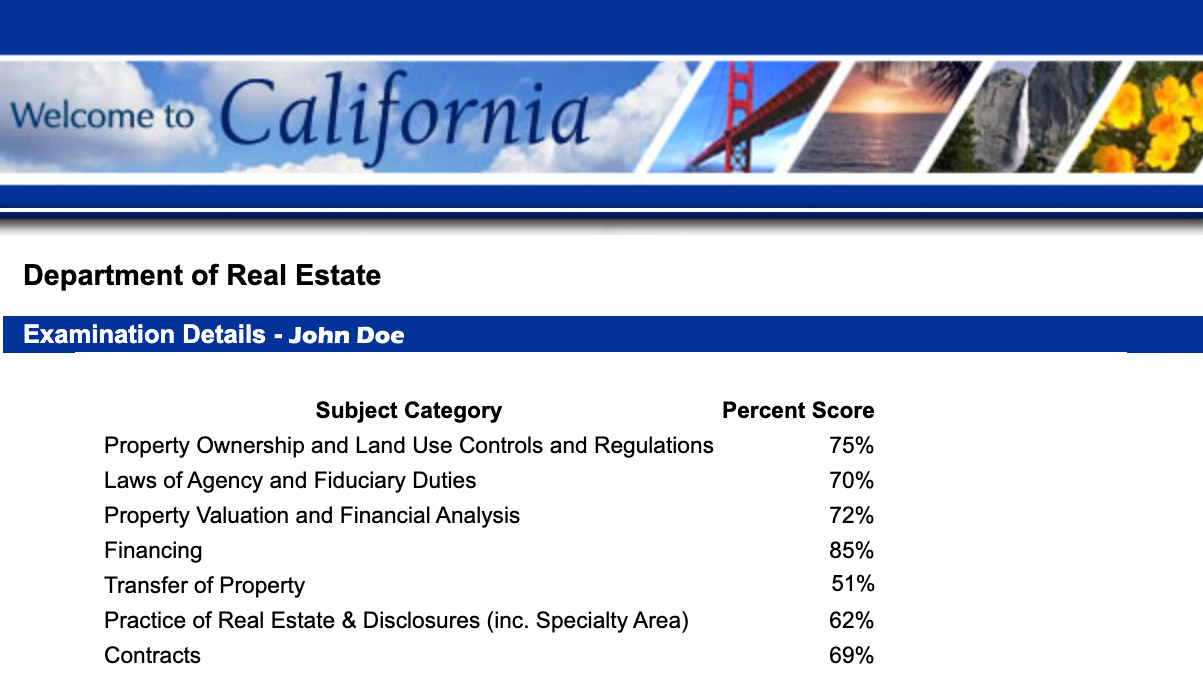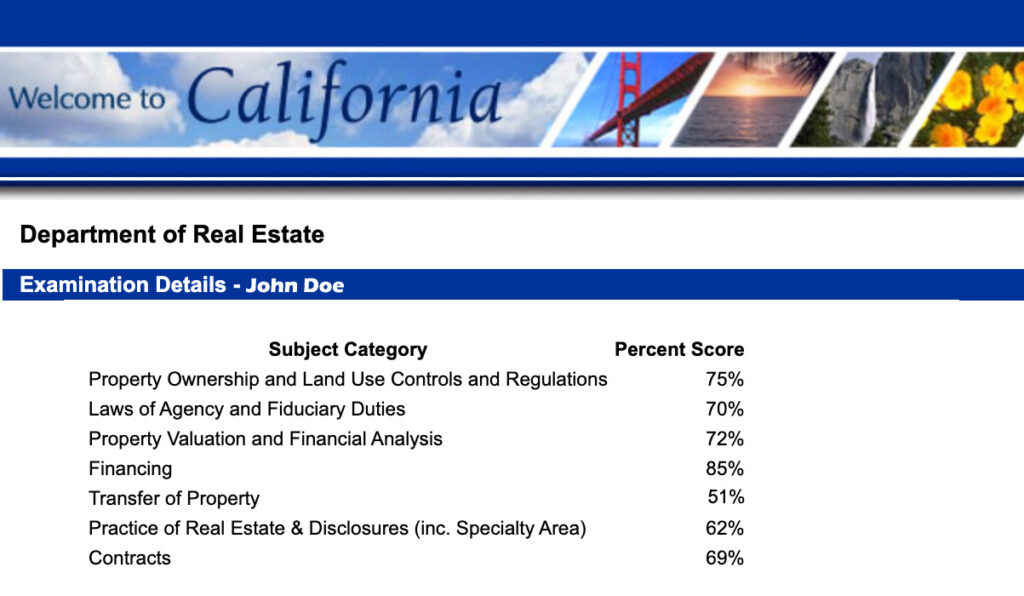 STEP 5. Choose A Broker For Your Sponsor And Launch Your Career As A Real Estate Agent
Working for a broker is necessary when you are a real estate agent. Knowing key considerations to guide your decision on which broker you want to work with as a newly licensed agent becomes essential.
Review the reputation of various brokerages in your area. You may want a larger brokerage initially, as they offer more resources, training, and mentorship to aid your learning curve. Look for comprehensive training programs, workshops, and one-on-one mentoring opportunities.
Ask about the commission structure and any additional costs associated with the brokerage. Sometimes, you may have to pay for desk, marketing, or technology fees.  The fees could dip into your commission, and you need to weigh your commission split with the training and support you receive.
Learn about the broker's marketing system and networking opportunities. A robust marketing system will give you more exposure early in your career and help you build your client base.
Make sure that the broker has the availability and willingness to support you. Support is critical to your success. A supportive broker can be a valuable mentor and resource when building the foundation of your new real estate career.
Frequently Asked Questions When Getting A Real Estate License
Some of the most common questions about getting your real estate license in California are answered below.  If you have additional questions, please feel free to call one of our helpful advisors at (888) 714-0566.
How much does it cost to get a real estate license in California?
Tuition for real estate schools varies depending on the type of education you are looking to receive.
For example, classes taken in a physical or virtual classroom are more expensive than online self-study courses. Optional study tools are also available for those who wish to have additional methods to study and prepare for the exams.
The advantage of online real estate schools is that they typically offer a variety of learning packages that you can choose from based on the study tools you feel will be helpful in your education.
Real Estate License Cost Details
Online Course Enrollment: $99 – $299
Live Scan (Fingerprinting/background check): $69
Live Scan Price Details:
$20 Rolling fee
$32 DOJ
$17 FBI
State examination fee: $60
Salesperson License Fee: $245 (Includes a four-year license).
What are the advantages of getting a California Real Estate License?
Obtaining a California real estate license offers many opportunities if you want to embark on a career in real estate.
A real estate license opens up various career paths, including, but not limited to, being a real estate agent, property manager, real estate investor, or even a broker. The license also permits you to buy and sell residential and commercial properties throughout the state. A separate license is not required.
Earnings as an agent or broker rely on commissions from selling or leasing properties. In California, property values are among the nation's highest, which can translate into substantial income potential.
A real estate investor will have access to MLS and real estate listings, allowing access to comprehensive property listing data. This access can be crucial for them to view and analyze a wide range of properties, market trends, and pricing when considering their next investment.
Finally, your real estate license allows you to enjoy job flexibility. You can often set your work schedule as an independent contractor.
It makes the real estate career appealing for those seeking a balance between their personal and professional life.
Is getting a real estate license worth it in California?
Working in real estate offers the opportunity to change your life in many ways. Gone are the redundant days of performing the 9-5 job sitting in a cubicle all day, making the same income on each paycheck.
Real estate agents set their schedules, earn substantial income with their listings, and enjoy different scenarios from day to day. The interaction with different personality types, properties, and challenges to closing the deal makes the career as an agent not only exciting but fun at the same time.
Imagine a career that revolves around your life instead of your life revolving around your career. Is it worth it?
What kinds of jobs are available with a real estate license?
A real estate license opens the door to many job opportunities and career paths, each with its responsibilities.
Residential real estate agent: Specializes in buying and selling homes for individual buyers and sellers.
Commercial real estate agent: Focuses on business properties such as office spaces, retail properties, and industrial facilities.
Real estate broker: Manages an office of agents and oversees transactions to ensure compliance with laws and regulations.
Property manager: Manages rental properties on behalf of owners.
Real estate appraiser: Determines the value of properties for sales, financing, taxation, or insurance purposes.
Real estate consultant: Provides expert advice on real estate investments, market trends, or development opportunities.
Real estate investor: Buys, sells, or rents properties for profit. You can work as an independent investor or as part of an investment group.
Relocation specialist: Assists people in relocating, such as employers moving employees to new areas.
TL;DR: Getting your real estate license in California involves easy-to-follow steps. Enroll in a real estate school, complete the real estate courses, apply for the state exam, pass the state exam to receive your real estate license and find a broker to support you.